2023 Business Officer Retreat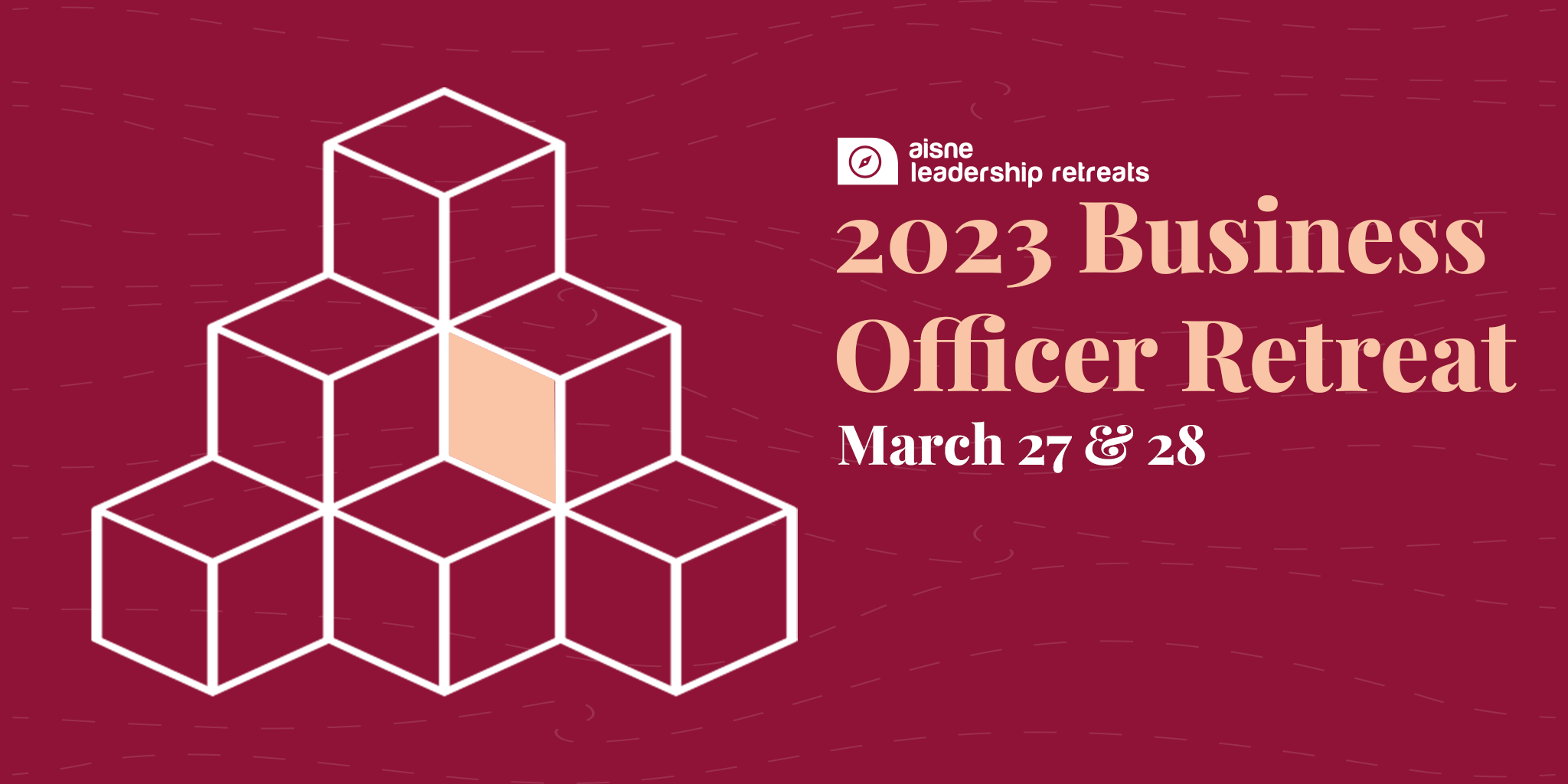 March 27 & 28
In Person!
Babson Executive Center
1 Snyder Drive
Wellesley, MA 02457
Join us for the 2023 Business Officer Retreat.
We are eager to come together for days of community, laughter, learning, and growth. Engage with colleagues, hear from dynamic speakers, share experiences, and connect with others outside of the schoolhouse. Whether you are new to the AISNE community, or an old friend, you will find this in-person gathering stimulating and enriching.
Pricing
| | |
| --- | --- |
| Number of Attendees | AISNE Member Rate |
| 1 | $599 |
| 2+ | $499 |
Hotel 
Marriott Residence Inn Boston Needham
80 B St
Needham, MA 02494
$139/nt + tax. Wi-Fi and parking are included.
Agenda at a Glance
Monday, March 27
9:00 – 9:30 AM | Registration & Refreshments

9:30 – 10:45 AM | Opening Keynote: Melissa Bowler

10:45 – 11:00 AM | Break

11:00 AM – 12:15 PM | Topic Sessions

12:15 – 1:15 PM | Lunch

1:15 – 1:30 PM | Break

1:30 – 2:30 PM | Solution Stations

2:30 – 2:45 PM | Break

2:45 – 3:45 PM | Collaboration Café

3:45 – 5:00 PM | Exhibitor Session & Raffle

5:00 – 6:00 PM | Cocktail Hour

6:00 – 8:00 PM |

All-Attendee Dinner
Tuesday, March 28
8:00 – 8:30 AM | Coffee & Conversation

8:30 – 9:00 AM | AISNE Pulse Points

9:00 – 10:00 AM | Keynote: Yat Li

10:00 – 10:15 AM | Break

10:15 – 11:30 AM | Topic Sessions

11:30 – 11:45 AM | Break

11:45 AM – 12:45 PM | Collaboration Café

12:45 – 1:30 PM | Farewell Lunch
---
Featured Sessions
Monday, March 27 | 9:30 – 10:45 AM
Opening Keynote: Melissa Bowler | "Connecting through Comedy"
We'll start our Retreat with a fun, interactive, and hilarious session with comedian Melissa Bowler. She will lead you through easy-to-play improv exercises that will help illustrate lessons in empathy, biases, and communication. This session is a combination of games, stand-up, and discussion to create an unforgettable learning and leadership experience that will leave you laughing and energized.
Melissa Bowler is a communication consultant and teaching artist who has worked with corporations and universities across the United States. She is the co-founder of Providence Improv Guild (PIG), a training center and comedy venue in Rhode Island. Since 2009, Melissa has traveled across the country with her workshop "Connecting through Comedy," an award-winning curriculum designed to train professionals in teamwork, open communication, and creative problem-solving. She currently offers this program online through virtual workshops, in-person sessions, and speaking programs.
Tuesday, March 28 | 9:00 – 10:00 AM
Yat Li | "Deaf to Employment: Building an Inclusive Workplace"
Schools have embraced strategic diversity, equity, and inclusion goals for adult recruitment and retention, tapping into the tangible business and social benefits to one's school workplace and community. At this session, you will learn to build competitive advantage through inclusivity, recognize ways to build an inclusive organizational culture, and identify and remove barriers to achieving your goals. Further, you will learn what it looks like to collect, measure, and share data to track your progress toward your strategic goals.
People with disabilities represent a valuable talent pool in today's competitive environment. Mr. Li will make the case for considering people with disabilities, and explain why it's important for workplaces to have senior leaders who understand the challenges and opportunities. He will distinguish between workplaces that succeed at being inclusive and those that do not.
Yat Li is a communications specialist. He was born with a condition called Microtia, meaning he has no outer ears and is Deaf and Hard of Hearing. As a child, his struggles with speech and hearing were compounded by a limited understanding of English, affecting his self-esteem and confidence. You will hear his inspiring story of how he managed to fight through the odds to overcome his barriers. Today, Mr. Li is a senior accessibility consultant to business leaders, a disability advocate, and an advocate for Deaf and Hard of Hearing persons. His message will reinforce the importance of building from within, generating passion from interest, and ultimately inspiring others to achieve their goals.
---
Agenda
Monday, March 27
Registration & Refreshment | 9:00 – 9:30 AM
After checking in, grab a cup of coffee and meet your fellow attendees.
Featured Session: Melissa Bowler | 9:30 – 10:45 AM
See above.
Topic Sessions | 11:00 AM – 12:15 PM
Effectively Investing in Your Most Valuable Asset: Faculty & Staff
Jennifer Borislow, President and Founding Principal, Borislow Insurance
Brian B. Garrett, Of Counsel and Vice Chair of Education Group, McLane Middleton
Faculty and staff are the lifeblood of every independent school. In today's highly competitive work environment, schools need to expand their talent pool while striving to achieve their mission of an aligned and committed workforce. It is critically important to focus attention on the policies, benefits, and practices that create an attractive work environment. This session will explore regulatory and legal updates that impact faculty and staff compensation and benefits, in addition to highlighting best practices in faculty and staff retention and recruitment.

Strategies for Awarding Tuition Assistance
Megan Fangmeyer, K-12 Product Manager, FACTS
A well-defined awards strategy enables you to focus on your school's mission and goals while providing a data-driven way to evaluate and improve your tuition assistance program. This session will discuss popular awarding techniques and trends, how to leverage your data to guide and inform your awarding decisions, and ways to set yourself up for success when implementing changes to your program. Come away with ideas for streamlining your awarding processes, how to build awards strategies rooted in data, and key considerations for changing tuition assistance in a way that eases the transition for school and family alike.
Innovative Retirement Plans to Help Recruit & Retain Employees
Glenn A. Jensen, Managing Director, New England Retirement Consultants
Timothy E. Lane, President, Emeriti Retirement Health
Come learn about fresh and innovative steps you can take to position your school's retirement plan as a driver of employee satisfaction. As staff and faculty's benefit priorities shift and change in the post-pandemic era, now is the time to assess all aspects of your compensation packages. Learn how to redesign and reenvision retirement into a cost-neutral program that benefits both the employee and the school. You will come away with a roadmap and forward-focused solutions for reinvigorating this core piece of compensation and position your school for recruitment and retention success.
Supporting Student and Adult Mental Health
Meg Mclaughlin, Director of Health & Wellness, Middlesex School
Heidi Qua, Wellness Department Chair, Fay School
Amanda Santos Valenzuela, Wellness Education Department Head, Winsor School
Even before the onset of the pandemic, many of our students, faculty, and staff were struggling with mental health issues, and it became our duty to help match individuals with existing and new resources for support. Since the pandemic, this challenge has only become more important and challenging, made worse by the general lack of available professional mental health resources. Join this panel to learn about several schools' journeys in reacting to and meeting the growing needs of their school community in creative ways utilizing resources both inside and outside of their immediate communities.
Lunch | 12:15 – 1:15 PM
Solution Stations | 1:30 – 2:30 PM 
Technology platforms support many aspects of our schools, from human resources to marketing, and much more. Come take a tour of several platform solutions. In small groups, you'll move through a round-robin of operational areas, discussing common pain points, and learning about potential softwares that can help.
Collaboration Café | 2:45 – 3:45 PM
Following the solution stations, go deeper with your peers on the hot topics facing the business office today. We will take turns during the Collaboration Café to provide a brief introduction to a particular topic followed by an invitation for other participants to share and comment. This time will allow for extended and informal topic-based discussions about the topics that mean the most to you.
Exhibitor Session and Raffle | 3:45 – 5:00 PM
AISNE's Community Supporters will be on hand to share the latest products and services for your school, from legal council to architects, food services to classroom management apps. Come discover your next partner, or reconnect with a current member of your school's support community. We'll host a raffle with terrific prizes—be on hand to win anything from gift cards to event tickets! See the list of exhibitors below.
Cocktail Hour | 5:00 – 6:00 PM 
Thank you to our sponsors at Paul Davis Restoration for this fun, informal time for conversation and connection.
All-Attendee Dinner | 6:00 – 8:00 PM
We will close out our first day with a group dinner courtesy of our sponsors at Modern Capital.
Tuesday, March 28
Coffee & Conversation | 8:00 – 8:30 AM
Leveraging Your Pulse Points Data: Trends in Pay Equity and Salary Transparency | 8:30 – 9:00 AM
Eliza Alexander, Managing Director, Northern New England, AISNE
Linda Johnson, Director, Litigation Department and Vice Chair of Education Law Group, McLane Middleton
Alexander Noren, Director, Finance, Technology & Research, AISNE
Come learn how benchmarking data from across the AISNE membership can help inform your budget and staffing plans.
Featured Session: Yat Li | 9:00 – 10:00 AM
See above.
Topic Sessions | 10:15 – 11:30 AM
Audits, Accounting, and Tax…Oh My!
Grant Ballantyne, CPA, Senior Manager, BerryDunn
Melissa Magoon, CPA & MSA, Manager, BerryDunn
Independent schools operate in a highly competitive environment, where regulation, financing, infrastructure needs, and student enrollment all play key roles in sustainability. Having strong audit and assurance capabilities helps independent schools in their efforts to address the varied demands of this complex environment. Join this session for an overall audit and accounting update, which will include a tax update and come away with clear, actionable strategies that address both near- and long-term needs. Topics will include updates to lease accounting changes, currently expected credit loss for NFPs, the Employee Retention Tax Credit, tax implications of remote employees, 990 impact of contributed non-financial assets, and topics you raise during our concluding question and answer session. 
Boundaries as a Form of Risk Prevention
Rahel Bayar, Founder and CEO, The Bayar Group
Abuse prevention takes many forms, and establishing boundary policies and effective, tailored training is key to mitigating the risk of sexual abuse at your school. Over this past year, schools across the country saw their insurance companies require more than a "check the box" approach in how their policies and training spoke to these issues. With this shift, many schools are now questioning how best to implement an effective conversation without scaring their faculty and staff community. This session will allow you to delve into how schools can implement a roadmap for abuse prevention. You will gain awareness and understanding around the nexus between boundaries and grooming behavior and explore how updated, tailored, and dynamic boundaries training can effectively create safer schools. Rahel Bayar is the founder of The Bayar Group, which empowers schools with impactful, tailored abuse and harassment prevention trainings, workshops, and policies for your staff, students, and parent community.
Driving Organizational Stewardship from the Business Office
Ari Betof, Co-Founder and Partner, Mission & Data
Finance professionals often struggle to have their voices carry appropriate weight among school leaders and the Board of Trustees beyond just the numbers they present. Accomplished business officers know how to be both a team member and leader within the organization, and are adept at using multiple leadership strategies to be successful. Working in collaboration with different stakeholders, the CFO/Business Manager is often asked to ensure financial stewardship with incomplete data, high variability, and exacting expectations. For many, these moments feel like tap dancing on marbles. This interactive session will unpack three key tools in the leadership toolbox: managing up, organizational savvy, and change management. At the core of this work is facilitating mission-driven, data-informed decision-making. We will explore how to apply these concepts through the use of case studies, and both small and large group discussions.
2023 Law Changes Employers Need to Know
Talesha L. Saint-Marc, Attorney, Labor & Employment and Litigation & Dispute Resolution Practice Groups, Bernstein Shur
Tara A. Walker, Attorney, Labor & Employment & Education Practice Groups, Bernstein Shur
Come brush up with the most recent legal changes facing independent schools, at the federal, state, and local levels. We will cover employment laws and regulations requirements impacting your school and engage in a discussion about compliance. These are just some of the topics our pair of attorneys will cover: the Pregnant Workers Fairness Act (PWFA), the Providing Urgent Maternal Protections (PUMP) for Nursing Mothers Act, state minimum wage laws, vacation payout laws, federal and state family and medical leave laws (including mental health leave), and salary transparency and pay equity issues. There will be ample time to answer your questions and engage in deeper discussion.

Collaboration Café | 11:45 AM – 12:45 PM
We will continue with hot topics and peer discussions during this second Collaboration Café. See description above for more details.
Farewell Lunch | 12:45 – 1:30 PM
Exhibitor Session
We welcome the following AISNE Community Supporters to our retreat.
---
Our Learning Community 
Join your peers from the following schools across New England:
Nathalie Gonzalez, Applewild School
Christine Miller, Beacon Hill Nursery School
Fred Colson, Belmont Day School
Jay Bounty, Belmont Hill School
Jonathan Douglas, Berwick Academy
Michael Hoyle, Boston College High School
Derek Dettorre, Boston University Academy
Holly Walker, Boston University Academy
Susan Harrington, Brewster Academy
Julian Hickman, Brimmer and May School
Letitia Howland, Brookwood School
Tara Gohlmann, Buckingham Browne & Nichols School
Mike Massicotte, Buckingham Browne & Nichols School
Linda Perrotti, Buckingham Browne & Nichols School
Susan Ryan, Cambridge School of Weston
Kiymanjii Wilson, Cambridge School of Weston
Andrew Griswold, Cambridge-Ellis School
Stephen Solberg, Cardigan Mountain School
Nicholas Kieler, Carroll School
Deb McCarthy, Carroll School
Mike Daniels, Chapel-Hill Chauncy Hall School
Gwen Pojasek, Chapel-Hill Chauncy Hall School
Sally Rose, Charles River School
Lily Yee, Charles River School
Michael Komich, Chevrus High School
Mark Graziano, Commonwealth School
Frank Gallagher, Concord Academy
Paul Silva, Cushing Academy
Anthony Black, Derby Academy
Andrea Allbee, Dublin School
Michael Slater, Epstein Hillel School
Cheryl York, Erskine Academy
Carmen DiSanto, Falmouth Academy
Suzanne Jordan, Falmouth Academy
Diane Byrne, Fay School
David Platt, The Fenn School
Barbara Mazzeo, Fryeburg Academy
Erin Wentworth, Fryeburg Academy
Gerard Murphy, Kimball Union Academy
Dean Sidell, Landmark School
Vanessa Mendes, Learning Prep School
Holly Mui, Learning Prep School
Tara Vuono, The Learning Project
Kathleen Little, Lexington Montessori School
Wendy Corlett, Lincoln Academy
Brenda Konopelko, Lincoln School
Gail Pottle, Maine Central Institute
Donna Strouse, Montrose School
Hope Blais, New Hampton School
Wendi Cantwell, New Hampton School
Kathleen Howe, New Hampton School
Will Powers, The Pike School
Stephanie Beaudet, Proctor Academy
Rachel MacDuffie, Proctor Academy
Barbara Burnim Day, The Rashi School
Fadia Brangwynne, Riverbend School
Jon Wasserman, The Rivers School
Gibson Smith, Rock Point School
Joyce Henry, Sant Bani School
Ann-Marie Flynn, Shore Country Day School
Nicole Solari, Shore Country Day School
Loretta Stokes, Shore Country Day School
Carol Lyon, St. Johnsbury Academy
Crystal Rutledge, St. Johnsbury Academy
Farrah Cabana, Stanstead College
Christopher Hui, Summit Montessori School
Irving Dunn, Tenacre Country Day School
Rita Toufanidis, Tenacre Country Day School
Jackie Fellini, Thayer Academy
Julaine McInnis, Thayer Academy
Marge Pierce, Tower School
Jane Segale, Walnut Hill School for the Arts
William Potter, Waring School
Karen Geromini, Winsor School
Myrna Guerrero-McCabe, Winsor School
Liz McNeil, Winsor School
Thank you to our Retreat Planning Committee! Our event would not be possible without their work and support. 
Pictured from left to right:
Stephanie Beaudet, Director of Finance, Proctor Academy

Tom Ciciatiello, Chief Financial Officer, Gordon School

Wendy Corlett, Chief Financial Officer, Lincoln Academy

Ann-Marie Flynn, Director of Finance and Operations, Shore Country Day School 

Tara Gohlman, Chief Operating, and Financial Officer, Buckingham, Browne, & Nichols 

Nathalie Gonzalez, Business Manager, Applewild School 

Ian Moorehouse,  Chief Operating Officer, Wheeler School

Dave Platt, Associate Head for Finance and Operations, Fenn School

Steve Solberg, Chief Financial Officer, Cardigan Mountain School
Thank You to Our Sponsors
The AISNE 2023 Business Officer Retreat would not be possible without their generous support.
---
Cancellation Policy
Virtual Events
Cancellations and transfer requests must be sent via email to info@aisne.org. Cancellations will receive a 100% refund, less a $25 administrative fee. Transfers of registrations from one person to another are permitted up to 24 hours before the start of the event, or the first event of a series of events.
In-Person Events
Cancellations and transfer requests must be sent via email to info@aisne.org. Cancellations received up to 14 days before the start of the event will receive a 100% refund, less a $25 administrative fee. Cancellations received within 14 days of the start of the event will receive a refund, less a $100 fee. This fee covers the cost of our minimum commitments with our hotel partners; thank you for your understanding. Transfers of registrations from one person to another are permitted up to 24 hours before the start of the event.
---
Not an AISNE Member?
Become part of a network of more than 260 schools across New England. Enjoy opportunities for your entire school staff and faculty to connect with and learn from peers, and engage in high-quality professional development. AISNE is here to support your school's excellence and continuous improvement.
Join today or renew your membership.