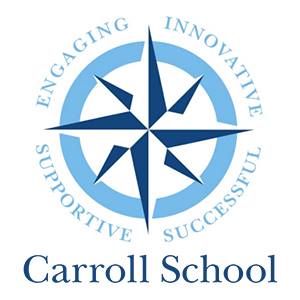 Accredited by NEASC
Upper/Middle School Tutoring Department Head
Faculty / Full-Time
Carroll School, Lincoln, MA
Overview:
Located in Waltham, Lincoln, and Wayland, Massachusetts, Carroll School is an independent day school that serves students with language-based learning differences, such as dyslexia. Carroll School empowers children to become academically skilled students who are strong self-advocates and confident lifelong learners prepared to enter other academic settings. Carroll is an inclusive community committed to embracing diverse strengths, identities, and lived experiences in order to give each child what they most need to thrive. The Carroll Middle School is located on the Lincoln campus and serves grades 6-8. 
Carroll School is an equal opportunity employer that offers competitive salaries and benefits, including comprehensive professional development opportunities.
Position Summary: 
This position provides academic leadership for the Middle and Upper School Orton-Gillingham Tutoring Department.  The ideal candidate brings a collaborative style, is self-directed, child centered and values a community of highly engaged, compassionate, motivated educators who embrace and apply culturally responsive teaching practices. . We are seeking candidates with experience in tutoring students with language-based learning differences and who are drawn to acquiring the necessary competencies to successfully teach our types of learners.  We are seeking candidates who also want to provide coaching and leadership to the team of tutors.  
Responsibilities:
Tutor 3 blocks

Assign, manage, mentor, and coach all MS and US

 tutors to meet students' needs

Observe tutorials and provide feedback to all MS and US tutors

Support tutors' Faculty Growth Plan goals and reflections

Coordinate with MS ELA/Humanities Dept. Head to select students for OG Focus Areas

Throughout the summer, work with scheduling team to review recommendations and testing data in order to assign and schedule students to OG Focus Areas: small group, pairs, and one to one tutorial based on their profile.

 

Continually evaluate all MS tutorial placements and make any necessary adjustments.

Review and revise Tutorial Report Cards as needed

Plan and deliver professional development to MS and US tutoring staff to further their knowledge and expertise in Orton-Gilingham

Participate in school sponsored professional development days and continue to advance to the Certified/Fellow Level of Orton-Gillingham training

Set agenda and run Department meetings

Attend parent conferences and speak with parents when necessary to discuss changes or parental concerns about tutoring 

Oversee the development of OG curriculum 

Responsible for adjustments to OG Curriculum Based Assessments

Keep up with current trends and research in the field of dyslexia and LBLD
Interview and hire Middle and Upper School tutoring staff  

Work with Director of GIFTT for assistance in selection of new skilled faculty tutors from  GIFTT training program

Serve as a member of the Academic Leadership Team 
Qualifications:
Bachelor's Degree

Orton-Gillingham trained (Associate Level) and Membership in the Orton-Gillingham Academy at the Certified Level (preferred)  

A willingness to be trained in programs such as "Seeing Stars" and "LIPS"

Minimum of five years tutoring or teaching children with language – based learning differences

Strong organizational, interpersonal, and supervisory skills

Prior management experience in an education setting preferred
Carroll School
Lincoln, MA
Elementary, Middle School, High School
Day
All Gender