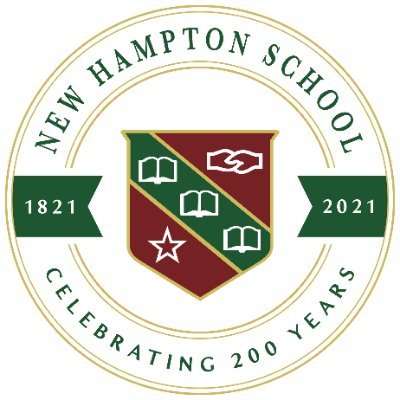 Accredited by NEASC
Mathematics Teacher
Faculty / Full-Time
New Hampton School, New Hampton, NH
Job Summary:
A full-time faculty member at New Hampton School participates in all facets of boarding school life. Believing teachable moments occur in a variety of venues, the school asks each faculty member to work in the classroom, in the co-curricular arena, as an advisor, and in the residential life program. Additionally, faculty members are expected to be role models to the adolescent community.
Job Status:
A faculty member at New Hampton School works throughout the academic year, as well as when their job duties require them to work. A faculty member engages with students through the academic, school life, and co-curricular programs. The full-time faculty position is a salaried position and includes applicable benefits in accordance with School policy.
Responsibilities Included (but are not limited to):
Support the school's mission, vision, and values.
 Attend orientation, faculty and departmental meetings, service-learning days, professional development days, weekend activities, and periodic community events.
Perform one other duty as assigned by the Head of School.
Attend all-school functions (required meals, community meetings, graduation, etc.)
Be familiar with school policies, rules and regulations.
Teach four content area classes or tutor during five class periods.
Advise students following the protocols defined in the "Advising Handbook."
Perform residential life duties as a member of a four-person team.
Provide co-curricular responsibilities during a minimum of two seasons.
Work a six-day schedule, including Saturdays during the academic year.
Required Qualifications, Skills and Knowledge:
Minimum of bachelor's degree
Expertise in subject area
Technology skills
Strong verbal and written communications skills
Possess a valid driver's license
Successfully complete a criminal and motor vehicle background check
Characteristics of a New Hampton School Faculty Member
Teachers at New Hampton School are expected to create a "Professional Educational Environment". Their professional practice should be palpable through the faculty members:
Enthusiasm for teaching and developing global-minded students.
Empathy for adolescence.
Ability to appropriately challenge.
Eagerness to be a reflective practitioner.
Willingness to model school values of respect and responsibility by being organized, reliable and accessible.
This position is for an immediate start. If interested, please send a resume, cover letter and 3 references to Jessica MacLeod, Dean of Faculty, at jmacleod@newhampton.org.
New Hampton School
New Hampton, NH
High School, Post Graduate
Day, Boarding
All Gender