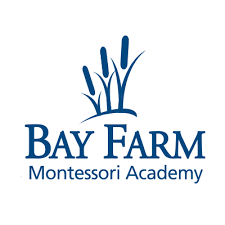 Accredited by AISNE
Children's House Lead Teacher
Faculty / Full-Time
Bay Farm Montessori Academy, Duxbury, MA
Children's House Lead Teacher
Bay Farm Montessori Academy is searching for a passionate, Montessori-trained teacher to lead a Children's House classroom. If you are interested in joining a highly-trained team of teachers to promote a vibrant Montessori experience for our children, please apply.
Bay Farm's Children's House Montessori lead teacher will help prepare a Montessori environment that challenges each child to reach their fullest potential. The teacher is also responsible for maintaining the operation of the classroom in accordance with state licensing requirements. The Montessori teacher performs his/her services under the direction and supervision of the Head of School. Working hours are 8.00 AM to 4.00 PM including prep time.
Qualifications:
Montessori teaching credential.
Department of Early Education and Care Teacher
Experience planning and implementing the Montessori curriculum.
Experience giving appropriate presentations
Experience establishing and maintaining a record keeping system to track children's progress.
Strong interpersonal skills are necessary.
Amazing collaborative skills -children, parents, staff members.
A positive and open attitude toward all children is a requirement.
Job Responsibilities:
Responsible for preparation of the classroom environment, materials and equipment; ensures that all materials are in good repair and all sets complete. Develops and makes materials when needed.
Plan and implement the Montessori curriculum. Give appropriate presentations and establish a record keeping system to track the children's progress.
Supervise the classroom assistant, aide, interns, substitutes, and parent volunteers. Provide necessary instruction and training for those assisting in the classroom environment.
Promote good communication among staff members.
Ensure respectful and open lines of communication with parents. Be available to parents through written communication, setting up conferences, and educating parents in Montessori philosophy.
Be a community leader, responsible for the school in the absence of an administrator.
Ensure the classroom and staff are compliant with EEC regulations.
Job Types: Full-time, Part-time
Job Type: Full-time
COVID-19 considerations:
In the event of a state-mandated school closure, Bay Farm will move to a Bay Farm at Home learning platform. Teachers would be responsible for creating lesson plans and interacting with students online every day.
Bay Farm Montessori Academy
Duxbury, MA
Early Childhood, Elementary, Middle School
Day
All Gender
Montessori