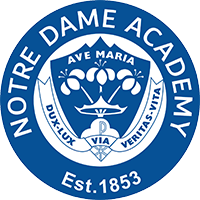 Accredited by NEASC
Theology Teacher
Faculty / Full-Time
Notre Dame Academy, Hingham, Hingham, MA
Notre Dame Academy, Hingham, Massachusetts–an all-female college preparatory middle and high school educating students in grades 7-12–is seeking a full-time 7-12 Theology Teacher with high energy, a creative spirit, and a passion for empowering young women. Notre Dame Academy is a vibrant, Catholic learning community, sponsored by the Sisters of Notre Dame de Namur. The Academy guides young women in their personal faith formation, challenges students to pursue academic excellence, and encourages social responsibility on behalf of global justice.
NDA is seeking an experienced theology teacher with a creative spirit and a passion for empowering young women to grow in their on-going faith journey. Under the supervision of the Theology Department Chairperson, the 7-12 Theology Teacher creates, develops, and implements thoughtful and rigorous middle and high school theology curricula that builds students' critical thinking, problem solving, and logical reasoning skills and prepares them for an ever changing and diverse world. Students are educated and empowered in an academically challenging learning community that fosters a life-long love of learning, critical thinking, and open-mindedness.
Components of Responsibility
Pedagogy and Assessment
-Teach grade 7-12 Theology.
-Implement meaningful and effective instructional methods, for middle and high school.
-Align course curriculum and assessments with established NDA curriculum maps.
-Ensure frequent opportunities for formative and summative assessments.
-Provide extra help through meetings with students and through email communications.
-Integrate technology into pedagogy where necessary and beneficial.
Classroom Management
-Create and maintain an organized, functional, and safe learning environment.
-Uphold school-wide policies and procedures that optimize learning, equity, and inclusion
Administrative
-Attend Theology Department Meetings.
-Support and participate in Theology Department events and initiatives.
-Pursue professional development training.
-Keep accurate records.
Job Requirements:
-Hold an undergraduate and/or graduate degree in Theological Studies, or a related field.
-Able to be flexible and adapt to the natural demands of a dynamic educational community.
-Be certified (or be willing to obtain certification upon hire) as a Theology Teacher by the Archdiocese of Boston.
Notre Dame Academy, Hingham
Hingham, MA
Middle School, High School
Day
Girls