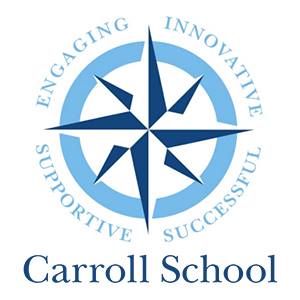 Accredited by NEASC
Middle School ELA/ Humanities Teacher
Faculty / Full-Time
Carroll School, Lincoln, MA
School Overview:
Located in Lincoln, Wayland, and Waltham Massachusetts, Carroll School is an independent day school that serves students who have language-based learning differences, such as dyslexia. The Carroll Upper School is located on the Wayland campus and serves grades 8-9.
In an effort to address the greatest need of each child, we recognize that diversity and inclusivity are essential to a child's learning experience. Our work is important, and we welcome candidates who add to the diversity of our community and demonstrate a commitment to equity and inclusion in their work.
Research shows that underrepresented groups apply to jobs only if they meet 100% of the qualifications. Carroll School encourages you to break that statistic and apply. No one ever meets 100% of the qualifications. We look forward to your application.
Carroll School is an equal opportunity employer that offers competitive salary and benefits, including strong professional development programming such as Orton Gillingham training.
Position Summary:
The Carroll School seeks teaching candidates with a growth mindset and a true passion and commitment to lifelong learning. Candidates who are motivated by helping students to attain a strong sense of identity and self-worth and who are eager to equip students with skills and strategies for academic success. The ideal candidate brings a collaborative style, is self-directed, child-centered, and values a community of highly engaged, compassionate, motivated educators who embrace and apply culturally responsive teaching practices. We are seeking candidates with experience and/or interest in teaching students with language-based learning differences and who are drawn to acquire the necessary competencies to successfully teach our type of learners.
Responsibilities:
Teach English Language Arts/Humanities classes of 8-12 students
Apply a multisensory, diagnostic, prescriptive approach to instruction
Create highly focused, data-informed lesson plans specific to student's needs
Work with Middle School curricular team to develop and customize grade level curriculum through a culturally responsive lens
Develop positive working relationships with all constituencies: students, parents, colleagues, and administration
May assist in after-school program activities
Perform other duties as required
Qualifications:
Bachelor's Degree, Master's Degree preferred
Have the ability to teach using multi-sensory education methods
Have experience or interest in interdisciplinary teaching and learning
Willingness to train in highly specialized approaches to teaching students with language-based learning differences
Desire to teach multicultural curriculum
Proficient written and verbal communication skills
Minimum of 3 years teaching experience preferred
Fully vaccinated against Covid-19
Carroll School
Lincoln, MA
Elementary, Middle School, High School
Day
All Gender
Serves Special Needs