This event has already passed.
Conference
March 19, 2022
, 8:30 am - 3:30 pm EST
Living Our Values in a Pandemic: Reggio-Inspired, Socially Just Education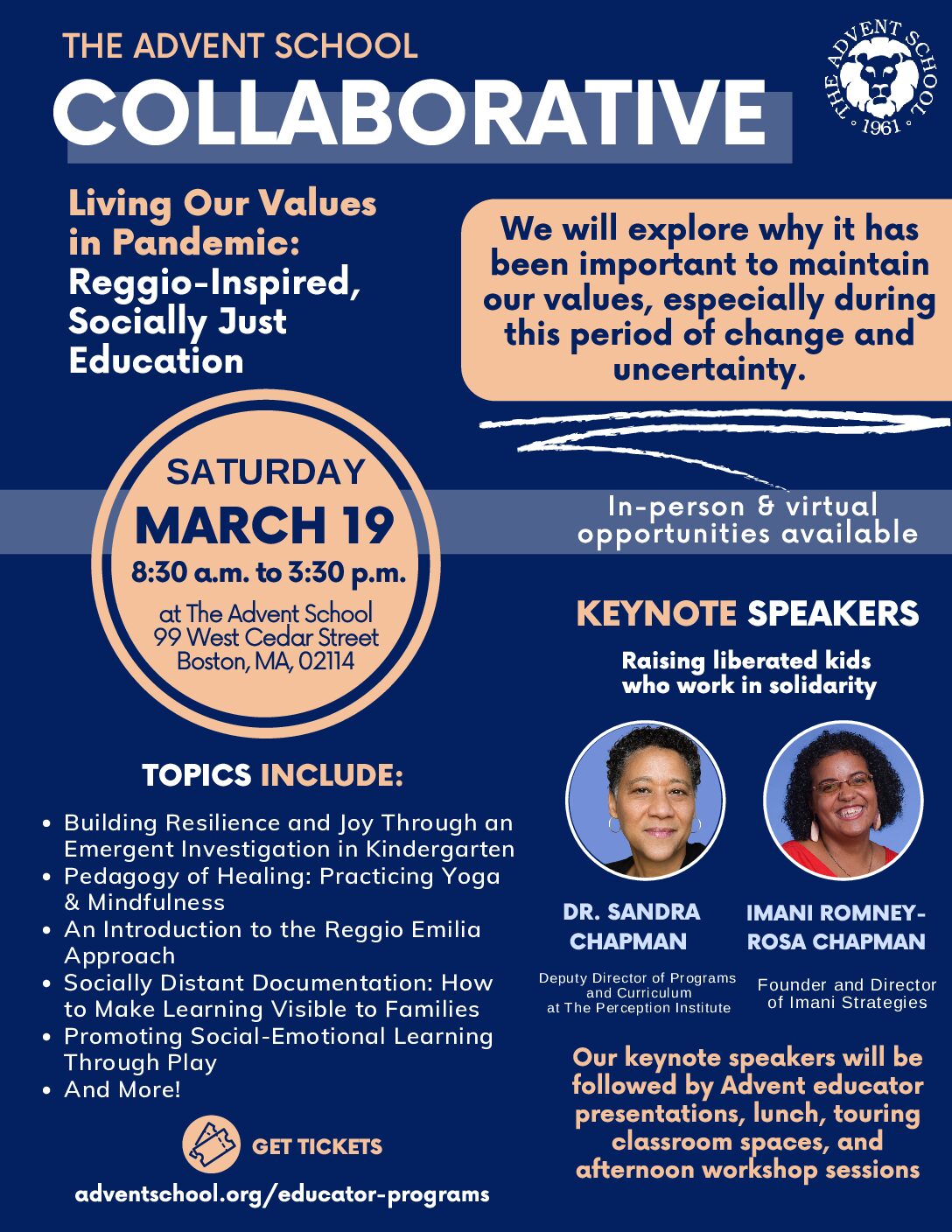 hybrid
The Advent School
15 Brimmer Street, Boston, MA
Join us on Saturday, March 19 for a day of learning with our keynote speakers and Advent educators!
This year, the theme of the Collaborative is Living Our Values in Pandemic: Reggio-Inspired, Socially Just Education. We will explore why it has been important to maintain our values, especially during this period of change and uncertainty.
We are thrilled to have Dr. Sandra Chapman and Imani Romney-Rosa Chapman join us as our keynote speakers – Then Let's Make a Fuss: Raising Liberated Kids Who Work in Solidarity. We have all heard, and likely even used, the following phrase in our classroom, "You get what you get and don't get upset." Perhaps you're thinking, "of course" they can get upset. Or perhaps you're wondering what if their upset was connected to being treated differently or denied access to what their peers receive because of their social identity? What if the right response is to get upset because what you get just isn't fair, just, or equitable? In today's society, young children receive daily messages about who they are and the groups to which they belong. When these messages are affirming, they aid in the development of a healthy sense of sense and positive sense of belonging to the community. However, negative messages about children's social identities are also absorbed and this can lead to diminished sense of worth and belonging. We are moving away from "don't get upset" and instead embracing a more socially just framework. You get what you get and you don't get upset, unless it's unjust, then less make a fuss. We are committed to raising liberated kids who work in solidarity and partnering with adults who love kids and who work toward social justice. Join us for an interactive and informative discussion about ways that educators can learn to build their own and their students' racial and equity literacies and develop strategies to engage in action-oriented conversations.
Educator Presentations
Overcoming the Pandemic's Classroom Challenges: Building Resilience and Joy Through an Emergent Investigation in Kindergarten
Changing Curriculum in a Career-Changing Pandemic: An Evolving Study of Changemakers
Pedagogy for Healing: Supporting The Whole Child (and Teacher) During a Pandemic
Afternoon Workshops (participants will select two):
Metamorphosis of a Study: Social Justice Teaching in the Early Ed Classroom
Socially Distant Documentation: How to Make Learning Visible to Families During a Pandemic
Art & Materials: Exploration, Conservation & Accessibility
Pedagogy of Healing: Practicing Yoga & Mindfulness
An Introduction to the Reggio Emilia Approach
The Language of Numeracy: Number Concepts in the Reggio-Inspired Classroom
Promoting Social-Emotional Learning Through Play: Insights from a School Counselor
Reggio in Upper Grades: Academic Content, Emergent Ideas, and an Interdisciplinary Approach to Curriculum Planning
Building Resilience for Schools Leaders