This event has already passed.
Webinar
November 17, 2021
, 4:00 pm - 5:15 pm EST
From Confident Girls to Successful Women: A Conversation about Girls' Education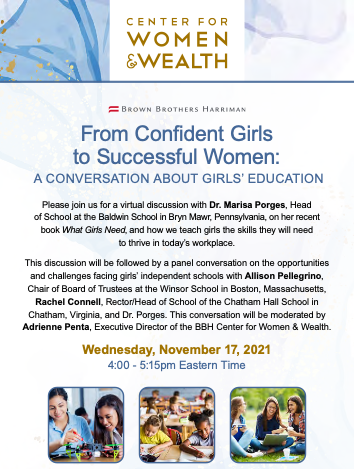 Please join us for a virtual discussion with Dr. Marisa Porges, Head of School at the Baldwin School in Bryn Mawr, Pennsylvania, on her recent book What Girls Need, and how we teach girls the skills they will need to thrive in today's workplace.
This discussion will be followed by a panel conversation on the opportunities and challenges facing girls' independent schools with Allison Pellegrino, Chair of Board of Trustees at the Winsor School in Boston, Massachusetts, Rachel Connell, Rector/Head of School of the Chatham Hall School in Chatham, Virginia, and Dr. Porges. This conversation will be moderated by Adrienne Penta, Executive Director of the BBH Center for Women & Wealth.
Wednesday, November 17, 2021 4:00 – 5:15pm Eastern Time