This event has already passed.
Student Conference
April 1, 2023
, 9:00 am - 3:00 pm EST
AISNE 2023 Middle School Diversity, Equity, and Inclusion Conference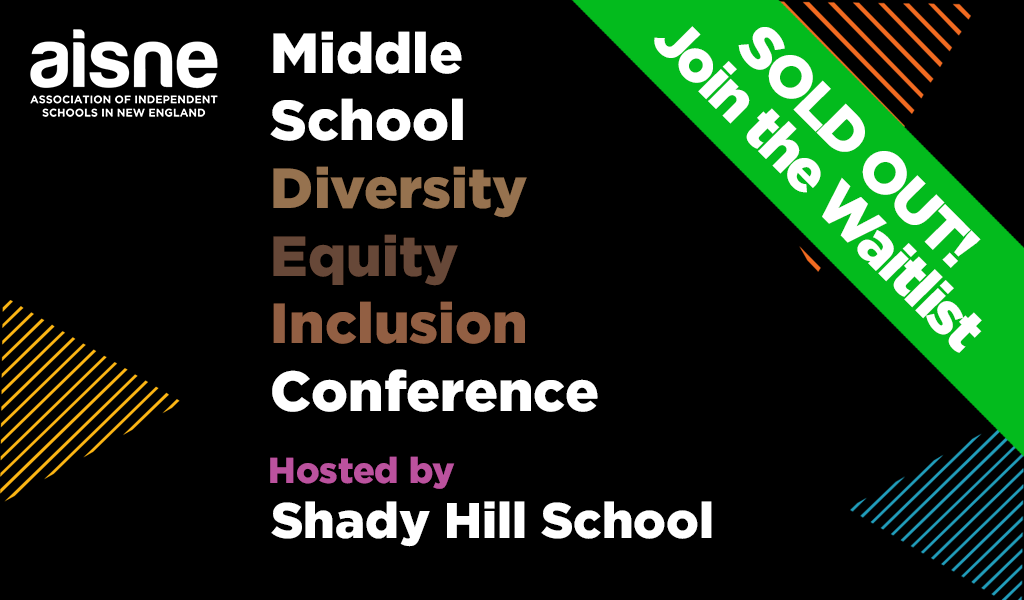 on-site
Shady Hill School
178 Coolidge Hill Rd, Cambridge, MA
We are excited to welcome you to the Middle School Diversity, Equity, and Inclusion Conference, hosted by Shady Hill School. After three years of virtual programming, we're thrilled to be returning to in-person and bringing students from across New England together to learn, laugh, and grow.
Pricing
$125, plus service fees, per student and chaperone.
This conference is now sold out.
If you are interested in purchasing tickets, should any become available via cancellations, email info@aisne.org. Include your name, your school's name, and the number of tickets you would like.
Students & Chaperones
To ensure access to the event for as many schools as possible, there is a limit of 15 students and 2 chaperones per school.
The chaperone/student ratio is 1:10. If you wish to bring 15 students, then you should plan to have at least two chaperones present during the Conference.
Registration Process
This is a two-step process >> please read carefully!
Prior to February 17, we ask that you register the number of students that plan to attend the conference, even if you're not sure of the individual students who may participate.
To secure the spots, you can use placeholder names (example: John Doe, Jane Smith, etc.) repeatedly in the Eventbrite system.
After registration closes on February 17, we will send you a Google Form to indicate the student names, affinity group preferences, and any other important information needed to maximize the conference experience.
We anticipate this conference will sell-out! Please don't delay getting your school signed up and ready for a great event in April.
Cancellation & Transfer Policy
Tickets to the AISNE Middle School Diversity, Equity, and Inclusion Conference are non-refundable. Transfers of tickets from one student to another are allowed at no charge until March 15, 2023. Transfers of tickets from students in one school to another are not permitted.