2023 Middle School Diversity, Equity, and Inclusion Conference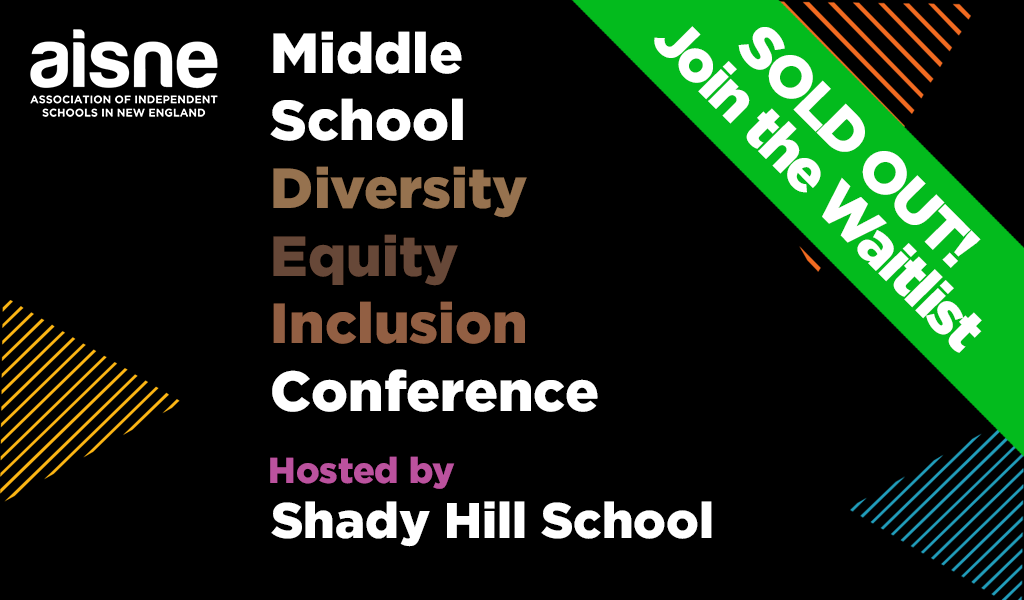 April 1, 2023
In-Person!
Shady Hill School
178 Coolidge Rd
Cambridge, MA 02138
We are excited to welcome you to the Middle School Diversity, Equity, and Inclusion Conference hosted by Shady Hill School.  We are thrilled to be in-person and bring students from across New England together to learn, laugh, and grow.
Pricing
| | |
| --- | --- |
| Attendee | AISNE Member Rate |
| Student | $125* |
| Chaperone | $125* |
This conference is now sold out.
If you are interested in purchasing tickets, should any become available via cancellations, email info@aisne.org. Include your name, school name, and the number of tickets you would like.
Agenda at a Glance
8:00 – 8:50 AM | Arrival, Registration & Breakfast
8:50 – 9:00 AM | Transition to Opening
9:00 – 9:30 AM | Welcome & Spoken Word Performance
9:30 – 9:45 AM | Snack & Stretch
9:45 – 10:40 AM | Keynote Speaker & Student Panel
10:45 – 11:45 AM | Workshop Session One
11:45 AM – 1:15 PM | Lunch & Learn – Affinity Groups or Social Justice Spotlight
1:15 – 2:10 PM | Workshop Session Two
2:15 – 3:00 PM | Conference Closing, Mindful Moment & Reflection with Dr. Liza Talusan
3:00 PM | Goodbyes & Dismissal
---
General Session Speakers
Ibram X. Kendi | A Conversation with Shady Hill Students
Dr. Kendi will engage virtually with a panel of Shady Hill student leaders and Dr. Laniesha Gray about the themes of his work and, in particular, his book, Stamped (for Kids): Racism, Antiracism, and You. Together, the panel will explore how to be a change-maker for racial equity and lead for social justice in our schools. We will also leave time for audience questions. In preparation for our keynote, students, and chaperones may wish to read Stamped (for Kids): Racism, Antiracism, and You. Learn more about Dr. Kendi's work on his website.
Dr. Kendi is one of America's most remarkable and leading historians and a strong voice helping to guide America toward becoming antiracist. He has also produced five straight #1 New York Times bestsellers, including Stamped from the Beginning: The Definitive History of Racist Ideas in America, which won the National Book Award for Nonfiction, making him the youngest-ever winner of that award. 
Spoken Word Performance: Poems on Resistance, Non-Conformity, and Community Activism | Dariana D. Guerrero
Join Dariana D. Guerrero in an interactive spoken word performance that will inspire all attendees. Students will leave feeling uplifted by Dariana's work, centering on race, community, and activism. Dariana will encourage us all to live authentically.
Closing Remarks | Dr. Liza Talusan
To close our time together, we will take our learning to the next level. Join Dr. Liza Talusan as we develop strategic action items—things we want to start, stop, change, or continue to improve our curiosity, collaboration, and critical thinking for a more inclusive community.
---
Featured Workshops
Meet the Author! Don't Ask Me Where I'm From: A Reading
Jennifer De Leon, Author
"Where are you from? Where are you from-from? Where are you really from?"
These are questions that Jenn faced while growing up—and continues to face—as a person of color. They inspired her to write a young adult novel, Don't Ask Me Where I'm From, in which first-generation Latinx Liliana Cruz does what it takes to fit in at her new, nearly all-white school. But when family secrets spill out and racism at school ramps up, Liliana must decide what she believes in and take a stand. Join Jenn as she reads a few scenes from the book and pulls the curtain back on the path to becoming a published author.
Dancing with the Middle School Stars! 
Rodney Eric Lopez, CEO of Rodney Eric Lopez Enterprises
If you've ever seen ballroom dancing on TV or in person, you know how much fun it can be! It's a great workout and a creative way to practice teamwork and coordination skills. It's also a wonderful opportunity to make some new friends while you're at the conference. Join Rodney Eric López, from the hit documentary film Mad Hot Ballroom, in an exciting dance class where you'll learn some cool steps in Merengue and Swing!
Restore Your Mind, Body, and Spirit through Yoga!
Erica Nunnally, Yoga Instructor
Join Erica for a session of gentle (but challenging) yoga practice designed to restore energy, clear your mind, and reduce a bit of stress or anxiety. Erica will open with guided meditation, proceed into a vinyasa (flowing) practice, and conclude with a final resting pose. Erica is supportive and instructional while bringing a playful sense of humor to her sessions…all are welcome…yes, YOU too. Please wear clothing that allows you to move freely.
Chaperone Workshop: Navigating the Conflicts and Risks of Empowering Students for DEI 

Dr. Liza Talusan, Educational Consultant & Author
As our students are engaged in learning about the role of diversity, equity, and inclusion in their lives, they are coming to this work with energy, excitement, curiosity, and a desire to build community. Yet, as adults, we know that this joyous work also comes with some real conflicts and risks. Come together as chaperones for the AISNE Middle School Conference to discuss how to best navigate the excitement and energy the students are bringing with the very real challenges of adult pressure, fear, and anxiety about "moving too far and too fast" at our schools.
Additional Workshop Choices
Activism at the Intersections
Blackout Poetry: Our Emerging Selves
Body Positivity: Radical Self-Love and Solidarity
Dancing With the Middle School Stars!
Disability Justice on the Playing Field
disABLEd Sports: The Practice of Inclusion
Drag Queens: Armored Dress to Fight Injustice
Got Privilege?
Heroes in the Movies: It's Not All Black and White
Identity and Resistance in Cartoons
Identity Collage
Intercultural Communication and Conflict Resolution
Keeping the Faith: Religion and Spirituality in Our World
Let's Talk About It: Being Jewish in an Independent School Today
Let's Talk About It: Being Nonbinary, Transgender, Gender Expansive, and/or Questioning in an Independent School Today
Let's Talk About It: Being Transracially Adopted in an Independent School Today
Meet the Author! Jennifer De Leon, Don't Ask Me Where I'm From
Racism, Concussions, & the NFL
Radical Resistance in America: No Turning Back
Self Care is Community Care: Sustaining DEI Advocacy and Action at Your School
Songwriting Sessions: Music with a Message
Speak for the Trees
Superman: Fighting Hate One Hero at a Time
Talking About Class: Where Should We Begin?
What's It Like To Be LGBTQIAP+ In An Independent School?
Writing Resistance: Narratives That Clap Back
Writing to Community Leaders: Finding Your Voice
Yoga Tune-Up With Erica
Our host, Shady Hill School, has reached out to registered chaperones to provide descriptions and survey to sign up for workshops. If you have any questions, reach out to equity.office@shs.org.
---
Pop-Up Bookshop
We are excited to welcome Wellesley Books to our conference. They will be onsite at Shady Hill with books from our Keynotes, Performers, and Featured Speakers. 
If you are interested in pre-ordering books such as Borderless by Jennifer De Leon and STAMPED (For Kids): Racism, Antiracism, and You by Ibram X. Kendi for your students, you can do so by clicking here. 
Community
We look forward to welcoming the following AISNE Member Schools.
Beacon Academy
Beaver Country Day School
Belmont Day School
Brimmer and May School
Buckingham Browne & Nichols School
Carroll School
Charles River School
The Chestnut Hill School
Dedham Country Day School
Derby Academy
Fay School
Fayerweather Street School
Friends Academy
Inly School
International School of Boston
The Meadowbrook School
Milton Academy
Noble & Greenough
The Pike School
The Rivers School
The Sage School
Shore Country Day School
Sophia Academy
St. Andrew's School
Tenacre Country Day School
Thayer Academy
Tower School
Waldorf School of Lexington
Wellan Montessori School
The Wheeler School
Winsor School
Interested in learning more about student conferences and/or how to be a host school?  Check out this new addition to our website for more information and resources!
---
Cancellation & Transfer Policy
Tickets to the AISNE Middle School Diversity, Equity, and Inclusion Conference are non-refundable. Transfers of tickets from one student to another are allowed at no charge until March 15, 2023. Transfers of tickets from students in one school to another are not permitted.
---
Not an AISNE Member?
Become part of a network of more than 260 schools across New England. Enjoy opportunities for your entire school staff and faculty to connect with and learn from peers, and engage in high-quality professional development. AISNE is here to support your school's excellence and continuous improvement.
Join today or renew your membership.