2023 Leadership for Racial Justice Fellows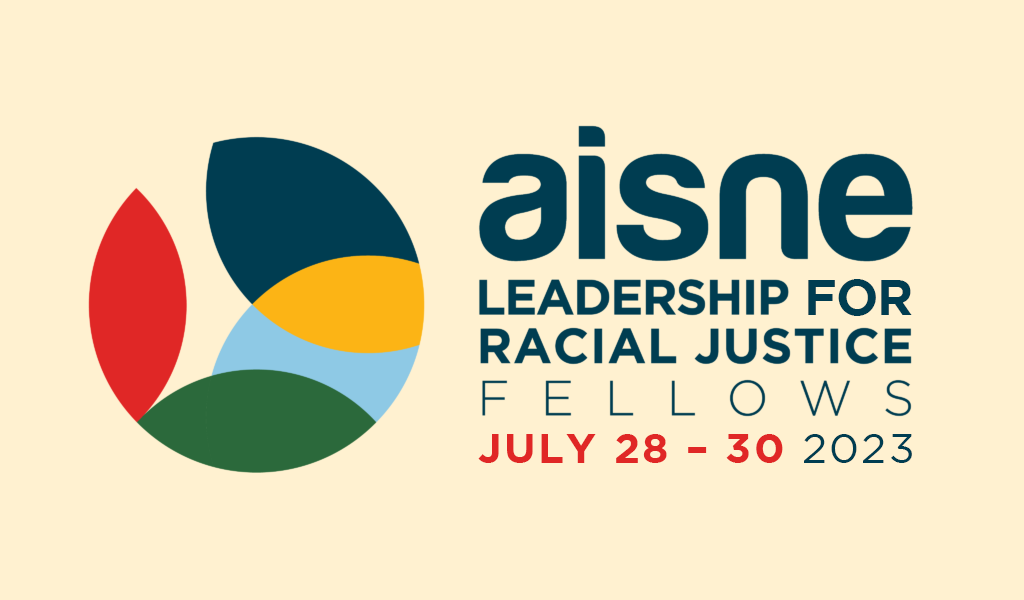 A unique program for advanced racial justice leadership development through experiential and nature-based learning.
Looking to develop your toolkit and reach your full potential as a racial justice leader?
AISNE's Leadership for Racial Justice Fellows program is an intensive, three-day experience for school leaders, facilitated by a team of experts specializing in anti-racist organizational change. Through dialogue and situational leadership scenario analysis, the program equips educators to better understand their unique capabilities and more effectively lead their communities. Participants will join a like-minded cohort of New England peers seeking to be change agents in their leadership for racial justice.
Is this Program Right for Me?
The Fellowship program is for school leaders with the ability to enact institutional change in policies, culture, and practices. The curriculum is designed for those seeking a deeper dive into personal and professional exploration of challenging justice topics. 
A personalized three-day agenda will be delivered within a supportive cohort. Together, your group will engage in dynamic presentations, generative conversations, outdoor experiential activities, and facilitated dialogues a your home group. There will also be time for individual reflection and planning to take the work back to your school. Each of these components will push you to engage with the natural discomfort that accompanies authentic work for racial justice.
The program blends traditional learning with experiential nature-based components. The Hale Intrepid Academy campus lends itself to this work. You may choose to engage in a "challenge by choice" ropes course, nature hikes, and other outdoor group activities. You will have limited access to WiFi, and meals may take place outdoors, weather permitting. If you have questions about accessibility, please contact us at info@aisne.org.
This program may appeal to many roles within the school, including:
Directors of DEIB

Heads of School

Division Heads

Assistant Heads of School and other top administrators

Board Chairs and Trustees 
Space in the AISNE's Leadership for Racial Justice Fellows is limited to 25 participants in order to create an inspired, close-knit cohort of anti-racist leaders. 
AISNE welcomes participants of all races, genders, religions, orientations, and abilities to join the Fellows program and especially encourages those who identify as a person of color to register.
We look forward to learning with you!
Registration
July 28 – 30, 2023
Hale Intrepid Academy
80 Carby St, Westwood, MA 02090
Your registration includes:
Access to the on-site program and a digital index of all learning materials. Individualized coaching during the program.

Lunch each day, breakfast Saturday and Sunday, and a welcome dinner on the first night. 

Mid-year accountability meetings in the 2023-24 school year.

Follow-up support with facilitators and other Fellows.

Invitation to reunion lunch during AISNE's 2023 Diversity, Equity, and Inclusion Conference (October 2023, dates TBD)
If you have any questions or accessibility needs, please contact us at info@aisne.org.
Program Fees & Requirements
Schools are limited to three participants each year.
Following their registration, each participant will be required to submit a letter of support which details the applicant's experience with and capacity for advancing racial justice in their school.  All letters of support should be emailed to eliza@aisne.org by the recommender using professional letterhead and the recommender's professional email address. Ideally, the letter of support should be written by a Head of School, a school board chair (if the participant is a Head of School), or other senior school leader to whom the applicant directly reports.
Early Bird Rate through March 31, 2023 (Save up to $350!)
$1,950 | AISNE Members

$2,400 | Non-Members
Regular Rate, beginning April 1, 2023
$2,300 | AISNE Member

$2,750 | Non-Member
Outcomes
Your program faculty will help you come away with:
Solutions for technical and situational leadership challenges needed to advance racial justice in your school.

Ways to give and receive productive feedback on racial justice issues.

Techniques to sustain yourself as a joyful, energetic, and impactful leader of racial justice.

A

better understanding of what meaningful, lasting change for racial equity would look like in your school and tools to help you implement it.

A network of supportive professional contacts with whom you can collaborate for years to come.
Program Faculty
Under the guidance of the Director, Erica Pernell, and lead facilitators Jadi Taveras and Melissa Lawlor, the program will bring together diversity practitioners, heads of school, and other school leaders in a cohort designed to promote culturally responsive, systemic change in schools.
Erica Pernell, Fellow Program Director
Erica Pernell is the Director of Intrepid Academy at Hale, a semester school for Boston Public School students focused on experiential learning and outdoor leadership. 
Erica has worked at the intersection of equity and education for over 15 years, including nine years as a teacher and administrator in independent schools. She partners with schools and organizations to create more equity and justice in education, and works as a consultant, speaker, and strategist in the Greater Boston area. Taking a solutions-oriented approach, Erica uses a growth mindset to empower individuals and communities to examine current issues, imagine ideal outcomes, and take steps to make transformation real.
 Jadihel Taveras, Lead Faculty
Jadihel (Jadi) Taveras is the Head of School at Esperanza Academy, an all girls middle school with a 12 year commitment to its students. 
Before his tenure at Esperanza, Jadi served as Dean of Multicultural Education at The Governor's Academy and Associate Dean of Students at The Putney School. Jadi has led the development and implementation of restorative justice, a culturally responsive curriculum, and programmatic expansion at Esperanza Academy. In 2020, Jadi committed to his first term as a member of AISNE's Board of Directors. In addition, he currently serves on the board of The Mariposa Foundation, Kimball Union Academy, Marigold Montessori School, and The Lawrence Partnership. Above all, he's obsessed with spending time with his three beautiful children.
Melissa Lawlor, Lead Faculty
Melissa Lawlor serves as Upper School Director of Equity and Inclusion for Milton Academy, a K-12 program with students from more than 30 countries.
Prior to her work at Milton Academy, Melissa worked as Director of Equity and Inclusion at Brewster Academy. Melissa previously worked as an English and Psychology teacher and Associate Director of College Counseling at Brewster. She has also worked as a teacher and advisor at Millbrook School, an online producer for Care.com, and a producer at WGBH-TV. Melissa is the co-founder of the Network for Independent School Equity (NISE), a regional affinity group dedicated to the professional development of faculty of color and LGBTQ+ faculty at independent schools in New Hampshire, Vermont, and Maine.
---
Cancellation Policy
Cancellations and transfer requests must be sent via email to info@aisne.org. 
Cancellations received on or before May 15, 2023 will receive a refund of 50% of the program fee. Cancellations received after May 15, 2023 are not entitled to a refund. Transfers of registrations from one person to another are permitted up to 72 hours before the start of the program.