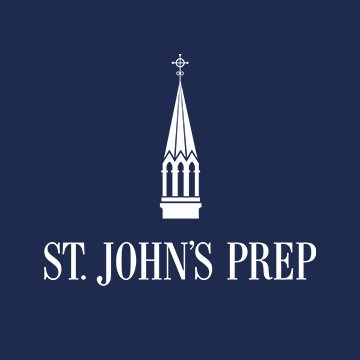 Accredited by NEASC
Writing/Learning Coach
Staff / Part-Time
St. John's Prep, Danvers, MA
St. John's Prep seeks a committed Writing/Learning Coach who is experienced in working with students in grades 6 through 12. The position will report to the Coordinator of the Writing Center. This is a part-time position; candidates should be available to work approximately 1:00 pm to 5:00 pm, Monday through Friday. There may be some flexibility to these hours.
The Writing Center is based in the Center for Learning and Academic Success (CLAS). These centers work hand-in-hand to support the learning of all students at St. John's Prep. More information about both centers can be found at https://www.stjohnsprep.org/
The Writing/Learning coach will work under the umbrella of both centers. Specifically, the Writing/Learning Coach will:
Work one-on-one with students to assist them with any stage of the writing process,
including brainstorming, planning, drafting and revising.
Work one-on-one with students of diverse learning profiles to reinforce organization, time
management and study skills.
Maintain accurate records of all coaching sessions.
Collaborate with teachers, guidance counselors and parents in supporting students.
Visit academic classrooms to deliver writing guidance and/or study skills workshops.
Present workshops at grade level meetings.
Implement effective strategies to assist students with diverse learning styles.
Collaborate with the Coordinator of the Writing Center and Director of CLAS to develop
appropriate center programming, including workshops and webinars on specific aspects of
writing and study skills.
Model a commitment to learning and professional growth.
Perform other duties as assigned by the Coordinator of the Writing Center.
Experience teaching or tutoring writing is required. In addition, candidates should be team-focused and value professional collaboration. A bachelor's degree in English is preferred, as is experience working with students with learning differences.
All members of the faculty and staff are expected to give witness to our mission and identity as an inclusive, Catholic, Xaverian Brothers Sponsored School for young men. In concert with faculty and staff responsibilities, St. John's encourages all members of the faculty to be involved in and to help enhance the life of the school, which includes a wide range of co-curricular, intramural and interscholastic programs.
Interested candidates are asked to submit a cover letter and résumé to Tracii Schaeublin, Assistant Head of School for Human Resources, at tschaeublin@stjohnsprep.org.
St. John's Prep
Danvers, MA
Elementary, Middle School, High School
Day
Boys