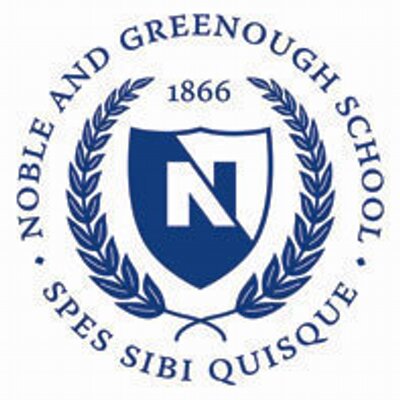 Accredited by NEASC
Voice Teacher
Staff / Part-Time
Noble and Greenough School, Dedham, MA
Founded by George Washington Copp Noble in 1866, Noble and Greenough School is a non-sectarian, rigorous academic community dedicated to motivating and inspiring students to achieve their highest potential and to lead lives characterized by service to others. Nobles is committed to creating a learning environment that represents diversity of race, gender identities, sexual orientation, religion, ethnicity, national origin, background, experience, and perspective. Doing so is intrinsic to our mission and improves the educational experience for all.
The Noble and Greenough School Performing Arts Department seeks a qualified voice teacher to teach the vocal component of an Introduction to the Performing Arts class and to teach private voice lessons to a studio of 10-15 middle and high school-aged students. 
The Introduction to the Performing Arts class will meet Tuesdays and Fridays 9:35-10:40 am throughout the academic year. The course description is as follows:
This course will introduce students to acting, dance, and vocal music. Students will spend one-third of the semester focusing on each of the three disciplines, with a different teacher respectively. Open to all upper school students as a way to acquire a basic understanding of aspects of theatre, music, and dance, we hope this course will spark an interest in one of the areas and serve as a springboard for students to then choose their next performing arts course. This class may only be taken once. All current students are eligible even if they have taken a (any!) previous M-Block course.
The voice teacher is expected to collaborate with the dance and theatre teacher in developing a curriculum for this course, implementing the introductory voice component for students with little to no musical and singing experience, and grading and tracking student progress accordingly.
The vocal teacher will also maintain a studio of 10-15 middle and high school private voice students ranging from beginner to advanced musicians. Lessons will mostly be taught on a 7-day rotation, so availability from 8:30 am -3:00 pm Monday through Friday is required.
Skills/Qualifications
Bachelor's degree in Music with an emphasis on voice

At least 2-5 years of experience teaching middle and high school-aged students

Enthusiasm for working with students with a wide range of abilities and experiences

Strong collaborator with students and peer teachers

Strong and timely communication skills
People of color, people with disabilities, members of the LGBTQIA+ community, religious minorities, and members of other historically underrepresented groups are encouraged to apply.
If you wish to apply, please click on the following link. You will be directed to the Noble and Greenough School online application form. Please address your application to the Head of Upper School, Michael K. Denning.
Noble and Greenough School
Dedham, MA
Middle School, High School
Day, Boarding
All Gender