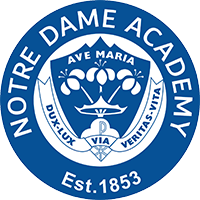 Accredited by NEASC
Vice Principal of Academics
Administrator / Full-Time
Notre Dame Academy, Hingham, Hingham, MA
Vice Principal of Academics
Notre Dame Academy- Hingham, a college preparatory high school educating young women in grades 7-12, is seeking a Vice Principal of Academics with high energy, a creative spirit, and a passion for empowering young women. Notre Dame Academy is a vibrant, Catholic learning community, sponsored by the Sisters of Notre Dame de Namur. The Academy guides young women in their personal faith formation, challenges students to pursue academic excellence, and encourages social responsibility on behalf of global justice.
Under the supervision of, and in collaboration with the Principal or their designee, the Vice Principal of Academics will oversee the academic development and well-being of all students by creating, managing and executing a program to enrich the student's academic and classroom experience in accordance with the mission of the School and the mission of the Sisters of Notre Dame de Namur.
Components of Responsibility
Daily oversight of all academic functions:
• Oversee teaching faculty and curriculum development for all academic classes. Hold teachers accountable for upholding the integrity of the teaching and learning environment through timely arrival in the morning, effective use of class time, effective implementation of grading practices and assessments, maintaining student relationships and accountability and fostering collaborative relationships with colleagues.
• Facilitate Department Chair meetings providing minutes and report of progress to Principal in a timely manner.
• In collaboration with Department Chairs, ensure teachers are supported in their teaching and learning.
• Collaborate with Director of Cuvilly on all matters related to all academic processes for the middle school.
• Collaborate with Cuvilly Curriculum Specialist on all academic matters related to middle school best practices.
Administer discipline and policy enforcement as it relates to academics.
• In consultation and collaboration with the Vice Principal for Student Life, as appropriate, manage and resolve escalated academic discipline issues including, but not limited to academic integrity.
Maintain relationship with Department Chairs to assist with academic oversight.
• Facilitate department chair meetings to aide in accomplishing beneficial academic vision and operations set forth by the Principal.
• Support all work of Department Chairs as needed or requested by Chairs.
• Evaluate performance of Chairs as per the evaluation process.
Oversee all Academic Operations of NDA.
• Collaborate with SIS Manager and Guidance Team to oversee the course selection process including course catalog revision, course selection and course placement.
• In addition to evaluating chairs, AP of Academics will also evaluate 1st year teachers and teachers on Performance Improvement Plans.
• Oversee all planning and execution of Mid-Terms and Finals.
School Growth and Improvement
• Serve as Co-Chair of the 2023/2024 NEASC process.
• Collaborate with Principal to develop, plan and execute all Faculty Professional Development Day planning, both on the departmental level and for the whole faculty.
Oversee and plan for all standardized testing at NDA.
• Collaborate and coordinate with Director of Guidance and the Guidance Team to plan and manage PSAT, SAT and AP Testing Days
Serve as primary contact for planned and last-minute Faculty absence coverages.
• Work in collaboration with the SIS Manager to assign coverages as needed for all Faculty absences.
• Utilize tracking system to encourage efficiency and equity of coverage assignments.
Responsible for training / on-boarding all new Faculty members.
• Collaborate with IT, SIS Manager and Department Chair to onboard new faculty as needed.
• Manage all new school year on-boarding of all new faculty.
Participate in the Enrollment Process and act as an ambassador to NDA for all prospective students and families.
• Support Admissions Team throughout the enrollment season and participate as needed in application reading, interviewing and onboarding of potential new students.
• Assist with placement exams and evaluation of transfer students throughout the year.
• Represent the academic process at admissions events.
Participate in and/or manage other projects as assigned by the Principal.
• Participate in NDA's DEI Initiative.
Take an active role and presence in representing NDA at school events.
Job Requirements
• Bachelor's degree in Education, or related field.
• Master's degree preferred or progress toward a Master's degree.
THE IDEAL CANDIDATES POSSES:
• An understanding, commitment, and appreciation for a Catholic, all-girls educational environment and NDA's mission and core values
• Strong interpersonal, collaboration, and communication skills
• Highly organized with a strong standard of professionalism, accountability, and customer service
Benefits:
• Competitive pay
• Medical, dental and vision insurance
• Employer-paid life insurance and disability insurance
• 401(k) plan – employer match
• Paid holidays, sick and personal time
• Flexible spending plans for both medical and dependent care
Please visit School Springs to apply
*Notre Dame Academy seeks to create a working and learning environment that reflect the society and community in which we are located, and we actively encourage candidates of all backgrounds to apply.
Notre Dame Academy, Hingham
Hingham, MA
Middle School, High School
Day
Girls