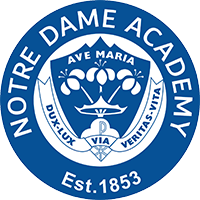 Accredited by NEASC
Varsity Tennis Head Coach
Staff / Seasonal
Notre Dame Academy, Hingham, Hingham, MA
GENERAL OVERVIEW
Notre Dame Academy – Hingham, an all-female college prep high school educating
young women in grades 7-12, is seeking a Varsity Tennis Head Coach with high energy,
a creative spirit, and a passion for empowering young women. Notre Dame Academy is
a vibrant, Catholic learning community, sponsored by the Sisters of Notre Dame de
Namur. The Academy guides young women in their personal faith formation, challenges
students to pursue academic excellence, and encourages social responsibility on behalf
of global justice.
Components of Responsibilities
• NDA Hingham is seeking a Head Coach for our Varsity Tennis program during
the Spring 2023 season. Practices are generally 5x/week with some weekend
matches throughout the season. The varsity coach oversees all aspects of the
tennis program and works closely with their assistant and junior varsity staff to
ensure growth within the program.
Expectations/Skills:
• Teach the skills, strategies and sportsmanship of the sport of tennis to high
school students.
• Be a role-model that reflects the mission of Notre Dame Academy
• Good communication with students, parents and administration. Demonstrate a
high level of organizational skill.
• Commitment is 5/6 days per week beginning in Mid-March to early June,
including post-season tournaments.
Job Requirements
• Previous varsity coaching experience required.
• Previous high school playing experience required. Previous college playing
experience preferred.
• Hold a valid CPR/AED/First Aid Certification or be willing to become certified.
• Successfully completed the NFHS concussion certification class and ability to
adhere to all school and state concussion policies.
*Notre Dame Academy seeks to create a working and learning environment that reflect
the society and community in which we are located, and we actively encourage
candidates of all backgrounds to apply.
Notre Dame Academy, Hingham
Hingham, MA
Middle School, High School
Day
Girls