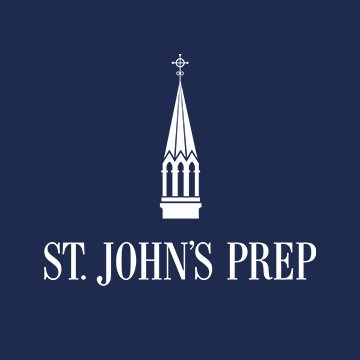 Accredited by NEASC
The Shaw Family Director of Innovation and Design Center for Mission and Research
Staff / Full-Time
St. John's Prep, Danvers, MA
About St. John's Prep 
At St. John's Prep, our mission calls us to be an inclusive, Catholic, Xaverian Brothers Sponsored School for young men in grades 6-12. Founded on the Xaverian values of compassion, humility, simplicity, trust, and zeal, we educate students to be, do, and stand for good in the world. We enroll approximately 1,500 students from more than 90 communities in Massachusetts, New Hampshire, and Maine. Please learn more about our Catholic and Xaverian Identity here. As noted in our Diversity and Inclusivity Statement, "Our diversity embraces, but is not limited by dimensions of culture, nationality, ethnicity, race, socioeconomic status, sexual orientation, religion, age, gender, physical ability, and learning differences."
Position Overview and Responsibilities
The Shaw Family Director of Innovation and Design is an endowed staff position within the school's Center for Mission and Research that reports to the Principal/Associate Head of School. The Center for Mission and Research connects St. John's with the world around us. The Center promotes interdisciplinary inquiry and action through the focus areas of environmental sustainability, global health and wellness, innovation and design, and justice and peace. Each of these focus areas has a director in the Center. Additionally, the Center encourages thinking critically, taking risks, and building resilience while engaging humanity's biggest challenges. The start date for this position is negotiable.
Key Responsibilities
In collaboration with other directors
Co-teach our Advanced Research Capstone course.

Plan and implement our Global Education Program for

students to engage in learning beyond our campus, and examine issues through a global lens.

Work with our Office of Institutional Advancement to manage our Brother Robert J. Sullivan, C.F.X. Lecture Series that brings innovators and leaders to St. John's Prep to explore how an ethics-based education can shape decision-making in the real world.

Individual director responsibilities

Oversee

The Ryan Shaw '15 Entrepreneurial Education Program.

Collaborate with faculty and staff across disciplines to build resources, student facing programs, and professional learning that enhances understanding of issues related to innovation and design.

Serve as a thought leader on student learning of entrepreneurship, empathy-centered problem solving, and design practices. 
Skills and Competencies
The Director of Innovation and Design should have a working knowledge of design thinking and an understanding of how to apply empathy-centered problem solving and practices of effective design. The ideal candidate will be able to demonstrate a growth mindset with a student-centered approach. Experience in curriculum planning, academic research, and writing is preferred. Facilitating community connections and partnerships is important in order to foster collaboration with community members. As a director of this department, competence in program strategy, event management, and budget planning is preferred. Present in all of our work is the ability to integrate a variety of perspectives and disciplines with the understanding that innovation requires diversity.
Education and Experience
A Bachelor degree is required, with an advanced degree in a related field strongly preferred.

Qualified candidates should have at least three years of experience in education or entrepreneurship, ideally in STREAM fields (Science, Technology, Religious Studies, Engineering, Arts, or Math).
Experience with global education preferred – Multicultural competencies, global citizenship, student travel.
St. John's Prep is committed to building a diverse and inclusive campus community. We welcome applications from underrepresented groups. We seek applicants who demonstrate a commitment to multiculturalism and diversity that is manifested in classroom practice, student engagement, interpersonal communication, and curricular decisions.
All members of the faculty and staff are expected to give witness to our mission at St. John's. In addition to classroom teaching responsibilities, we encourage all members of the faculty and staff to be involved in the life of the school beyond the classroom through a wide range of co-curricular, intramural, and interscholastic programs.
For more information about St. John's Prep, including our academic, spiritual, and student life programs, please visit www.stjohnsprep.org. 
Interested candidates are asked to send a cover letter, résumé, and academic transcripts to Tracii Schaeublin, Assistant Head of School for Human Resources, at tschaeublin@stjohnsprep.org.
St. John's Prep
Danvers, MA
Elementary, Middle School, High School
Day
Boys