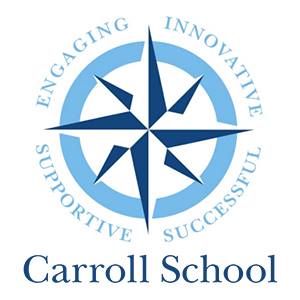 Accredited by NEASC
Technology Support Specialist
Staff / Full-Time
Carroll School, Lincoln, MA
School Overview
Located in Waltham, Lincoln, and Wayland, Massachusetts, Carroll School is an independent day school that serves students with language-based learning differences, such as dyslexia. Carroll School empowers children to become academically skilled students who are strong self-advocates and confident lifelong learners prepared to enter other academic settings.
Carroll School recognizes that diversity and inclusivity are essential to ensuring students' success and to empowering us all. These elements are critical to the culture of our adult community and a moral imperative. The work we do at Carroll changes lives. As such, we welcome candidates who have strong interpersonal and culturally responsive communication skills and a proven ability to interface professionally and collaboratively with a variety of constituents.
Research shows that people from underrepresented groups apply to jobs if they meet 100% of the qualifications. Carroll School encourages you to break that statistic and apply as it's rare to find applicants who meet all the qualifications. We look forward to receiving your application.
Carroll School is an equal opportunity employer that offers competitive salaries and benefits, including comprehensive professional development programming.
Position Summary:
The mission of the Department of Information Systems and Technology (IS&T) is to anticipate and service the computing needs of the Carroll School community by hosting, overseeing, and supporting a variety of computing hardware, software and other Technology related services. The Technology Support Specialist provides computer support, installation, configuration and upgrades of software and hardware to laptops and desktops on Chrome OS, Windows and Apple platforms.
Responsibilities:
Support and maintain the school's computer systems, such as desktops, laptops, and tablets as well as their peripherals.
Support and maintain all school and classroom AV, such as Interactive boards, document cameras, and sound systems.
Support of backup solutions such as Veeam and Druva
Support and maintain the school's Meraki networking environment (Access Points, Switches, Security Cameras).
Install, diagnose, repair, maintain, and upgrade all hardware and equipment while ensuring optimal performance.
Accurately document instances of hardware failure, repair, installation, and removal.
Support development and implementation of new computer projects and new hardware installations.
Support the school's VOIP system
Monitor and update help desk incident tracking tickets for purposes of demonstrating compliance with issue response and resolution, Service Level Agreements, logging daily activities and documenting solutions
Assist with hardware inventory, troubleshooting, maintenance and support
Support day-to-day Information Technology activities and projects
Creation/maintenance/editing of user accounts (i.e. permissions, security, group policies)
Travel between 3 campuses is expected.
Communicate with the Technology Department Team on a daily basis to accomplish department goals and objectives and attend department meetings
Review daily helpdesk items with the IT Manager and complete tasks as assigned.
Support Educators, Students, and Administrative Staff with Technology usage.
Qualifications:
At least 3 years of experience with Microsoft Server(2016/2019) required.
At least 3 years of experience with VMWare and Veeam required.
Experience in a Google Suite environment, Microsoft Windows 10, and Apple OS required and Google Admin experience a plus.
Experience in Active Directory and Configuring/Managing Chromebooks and Windows devices required.
College degree preferred and at least 4 years' experience in the IT field
Cisco Meraki experience is a plus.
Ability to problem solve,hardware/software installation and configuration based computing standards.
Experience working with ITSM tools such as ManageEngine Servicedesk Plus, ITGlue and Desktop Central is a plus.
Demonstrate knowledge of the general functions of the technology department.
Ability to manage multiple priorities simultaneously.
Excellent customer service, technical, organizational, and communication skills
Excellent problem-solving skills.
Self-starter who is able to work independently as well as on a team.
Prioritizes work assignments to be completed within time requirements.
Must demonstrate a positive and caring attitude toward students, clients, and staff.
Must remain flexible and adaptable in order to meet department needs.
Must be able to push, pull, and lift up to fifty pounds and routinely walk to and from various buildings carrying tools, equipment and other essentials to the job site.
Must be able to stand, walk, carry, stoop, kneel, bend, and reach overhead
Carroll School
Lincoln, MA
Elementary, Middle School, High School
Day
All Gender
Serves Special Needs