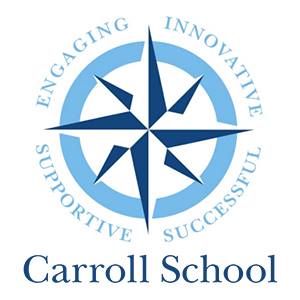 Accredited by NEASC
Teaching Assistant (Upper School)
Faculty / Full-Time
Carroll School, Lincoln, MA
Upper School Teaching Assistant
About Carroll School:
Located in Waltham, Lincoln, and Wayland, Massachusetts, Carroll School is an independent day school that serves students with language-based learning differences, such as dyslexia. Carroll School empowers children to become academically skilled students who are strong self-advocates and confident lifelong learners prepared to enter other academic settings. Carroll is an inclusive community committed to embracing diverse strengths, identities, and lived experiences in order to give each child what they most need to thrive. This position is located on our Upper School campus in Wayland, servicing students in grades 8-9. 
Carroll School is an equal opportunity employer that offers competitive salaries and benefits, including comprehensive professional development opportunities.
Position Summary:
The Carroll School seeks candidates with a growth mindset and a true passion and commitment to lifelong learning. Candidates who are motivated by helping students to attain a strong sense of identity, self-worth and who are eager to equip students with skills and strategies for academic success. The ideal candidate brings a collaborative style, is self-directed, child centered and values a community of highly engaged, compassionate, motivated educators who embrace and apply culturally responsive teaching practices.. We are seeking candidates with interest in working with and teaching students with language-based learning differences and who are drawn to acquire the necessary competencies to successfully teach our type of learners. 
This position will assist in all classroom activities as directed by the classroom teacher. This person will also support coverage of classes as necessary.  The Assistant will also assist in other team responsibilities as directed by the team leader and Division Head. 
Responsibilities:
Prepare and organize classroom environment

Make materials for classroom instruction

Work with students on an individual basis as directed by classroom teacher

Sub in classes when teachers are out

Participate in recess and lunch duties

Support Friday Program (12:30-4:45) (with additional stipend) 

Perform other duties as required
Qualifications:
Bachelor's Degree

Prior experience working with children preferably in an education setting

Strong verbal and written communication skills

Interest  to participate in school sponsored trainings such as Orton Gillingham and Cognitive Development

Flexible and willing to learn
Interested individuals should submit resumes via link to the School's applicant tracking system or via emails to jobs@carrollschool.org.
Carroll School
Lincoln, MA
Elementary, Middle School, High School
Day
All Gender