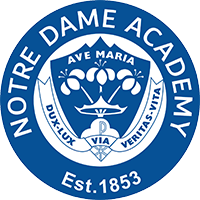 Accredited by NEASC
Student Program Coordinator
Staff / Full-Time
Notre Dame Academy, Hingham, Hingham, MA
Notre Dame Academy, a Catholic school sponsored by Sisters of Notre Dame de Namur, educates and empowers young women in grades 7-12. We are an academically rigorous learning community that cultivates life-long learners, critical thinkers, and open-minded leaders. We welcome students of all religious traditions guiding them in their personal faith formation and inspiring them to see the goodness of God as we honor the dignity of the individual and care for all creation.
GENERAL OVERVIEW
Notre Dame Academy is seeking a full time Student Program Coordinator who demonstrates high energy, a creative spirit, and a passion for empowering young women. Under the supervision of the Assistant Principal of Student Life, the Student Program Coordinator will collaborate with Finance, Communications, Advancement and Technology teams to develop and maintain systems supporting key elements of student experience.
CORE RESPONSIBILITIES                                                                                                            
·         Coordinate student life programs and activities, including student orientation, social events, Student Council, and Club Council, Peer Mentors, and end-of-year events.

·         Oversee class field and overnight trips ensuring all appropriate policies, procedures and supervision are in place; attend field and/or overnights when necessary.

·         Collaboration with the Billiart Leadership Institute on leadership events

·         Oversight of student behavioral expectations including maintaining systems to track student discipline, investigating any major issues

·         Ensures support structures that enhance success for all students.

·         Oversees customer service components of key student experience programs including lunch program, school uniforms, campus bookstore and transportation.

·         Serves as lead contact with town crossing guard. Liaises and collaborates with Business Office regarding contracted arrangements with external providers (SLA, JB Pride, Ingle Bus Services, Squad Locker and Hingham Crossing Guard).

·         Develops school-wide communications for each of these key student experience components including updates to the Final Site website portals.

·         Fields parent and student inquiries via phone and/or email relating to these programs in timely, responsive manner. Collaborates with Assistant Principal of Student Life to resolves concerns/issues.

·         Develops systems and processes to support other aspects of the student experience including student parking and study hall attendance.

·         Assistance with other duties as assigned from time to time

·         Collaborative and team oriented with students, faculty and administrators

·         Exhibit professionalism, maturity, integrity, and good judgement

·         Have superior organizational, communication and leadership skills

·         Create an environment which enhances and strengthens Notre Dame Academy's academic programs

EDUCATION AND EXPERIENCE REQUIREMENTS

·         Bachelor's degree

·         At least 3 years experience in a similar role

·         Experience in a school environment

·         Demonstrated leadership skills

·         Knowledge of technology

*Notre Dame Academy seeks to create a working and learning environment that reflect the society and community in which we are located, and we actively encourage candidates of all backgrounds to apply.
Notre Dame Academy, Hingham
Hingham, MA
Middle School, High School
Day
Girls