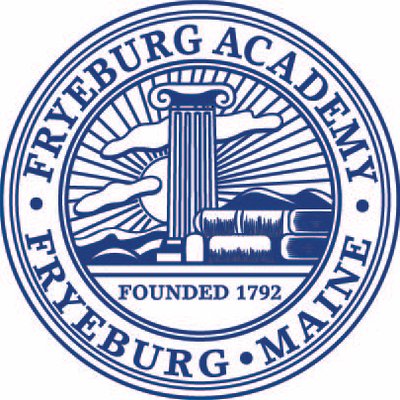 Accredited by NEASC
Special Services Coordinator
Faculty / Full-Time
Fryeburg Academy, Fryeburg, ME
Special Services Coordinator
Description:
Fryeburg Academy is seeking a special services coordinator to oversee all special education programs at Fryeburg Academy.  The coordinator leads a special services department of six full time faculty, a school social worker, and several educational aids. The coordinator ensures that Fryeburg Academy meets the needs of students with disabilities by fulfilling the students' individual educational plans; provides program leadership that is innovative, supportive, and collaborative; manages and engages staff and acquaints themselves with each student in the program.
Fryeburg faculty and staff have significant responsibilities connected with the school's boarding program; the special services coordinator will have a role on a dormitory supervisory team or within the weekend administrative supervisory rotation.
The successful candidate should possess strong interpersonal and organizational skills, understand and enjoy the diversity of students in the program, and have a strong understanding of special education law and regulations. The special services coordinator will work closely with faculty, families, and the local school administrative unit, will assign caseloads, and will carry a small student caseload. This position reports to the Director of Studies.
Specific coordinator duties fall among the following essential functions of the job:
Special Education Law and Student Services
Interpret and implement Chapter 101 and IDEA regulations.
Manage the special education referral/screening process
Determine eligibility to special education services based on evaluations and State of Maine regulations.
Ensure the Academy thoroughly follows special education laws and regulations
Manage the College Board Student Services with Disabilities accommodation process
Evaluate students and write academic evaluations
Facilitate individualized education plan meetings for each student that receives special services
Departmental Leadership
Plan and coordinate staffing needs of the department
Support and guide special services staff members; foster departmental collaboration; evaluate staff performance
Curriculum
Design and direct departmental curriculum that meets the special needs of students
Customize curriculum to meet the special needs of students
Stakeholder Consultation
Meet regularly with the local school district special education director and assistant special education director to keep them abreast of new student developments and ensure the use of common procedure and practice
Work with the local school district special education representatives to develop and ensure implementation of student IEP's.
Work closely with post-secondary school counselors on individual student schedules and with counselors, social workers, grade-level deans, and faculty in assessing individual students and ensuring comprehensive support
Work with the admission office and incoming families to assess students' needs
Qualifications/skills:
Master's degree preferred
Maine Department of Education Certification 282 or 030
Five years teaching experience and/or administrative experience in the field of special education; working knowledge of Maine Department of Education Special Education Regulations (chapter 101) and IDEA
Strong understanding of adolescents, learning differences, learning disabilities
Excellent leadership, organizational, and communication skills.
Skill in establishing and maintaining productive working relationships with students, faculty, parents, and external resources.
Aptitude to assess psycho-educational testing, with current knowledge base regarding learning differences/disabilities and educational trends.
Demonstrated ability to initiate actions with minimal supervision and maximum discernment.
Interested candidates should submit an application, letter of interest, résumé, college transcripts, and three references to Amanda Fusco, Executive Assistant to the Head of School (afusco@fryeburgacademy.org).
 All Fryeburg Academy employees are subject to Maine Dept. of Education Criminal History Record Check.
Fryeburg Academy is an Equal Opportunity Employer.
Fryeburg Academy
Fryeburg, ME
High School, Post Graduate
Day, Boarding
All Gender
Town Academy