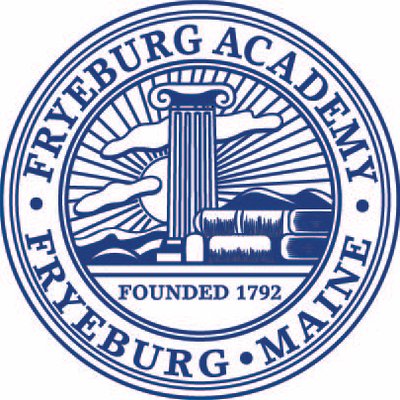 Accredited by NEASC
Social Studies Teacher (Anticipated 2023-2024 position)
Faculty / Full-Time
Fryeburg Academy, Fryeburg, ME
Fryeburg Academy, a 625-student day and boarding high school in Western Maine and the Mount Washington Valley, seeks an outstanding full-time teacher who prizes hard work and professionalism and who seeks instructional training, classroom experience, and mentoring. The successful candidate will assume duties in August 2023. This position involves teaching five sections of social studies and participating in the Academy's residential program as a dorm team member. Teaching assignments may include sociology, current events, and American studies, so a relevant content-area major or comparable experience is a must. The successful candidate will demonstrate enthusiasm for working with students from a variety of backgrounds and cultures, and with a range of academic interests and skills.
FA faculty have significant responsibilities connected with the school's boarding program and extracurricular offerings. The Academy is therefore looking for individuals who enjoy working with high school students both in and out of the classroom and who wish to strengthen its community. Previous experience working with adolescents outside the classroom– e.g., as a tutor, coach, camp counselor– is a plus. 
Qualifying Education and Experience:
Bachelor's degree in a social studies major or in education with a social studies concentration; Master's degree preferred.
Knowledge, Skills, Dispositions:
A strong belief in independent education, and particularly the mission of Fryeburg Academy

Ability to work with high school students of all backgrounds and abilities, and to encourage continuous growth

Ability and desire to plan high-quality instruction, assess student learning, reflect on pedagogical effectiveness, and adjust approach

Excellent communications skills, both oral and written

Ability to work both independently and collaboratively, and to meet high professional standards

Outstanding subject area knowledge
All Fryeburg Academy employees are subject to Maine Dept. of Education Criminal History Record check. 
Fryeburg Academy is an Equal Opportunity Employer
TO APPLY: Interested candidates should submit an application, letter of interest, résumé, college transcripts, and three references. Fryeburg Academy's application can be accessed by either visiting the employment page of Fryeburg Academy's website or by requesting one from the Business Office. Application documents can be emailed to Erin Wentworth, Human Resources Manager (ewentworth@fryeburgacademy.org).
Fryeburg Academy
Fryeburg, ME
High School, Post Graduate
Day, Boarding
All Gender
Town Academy