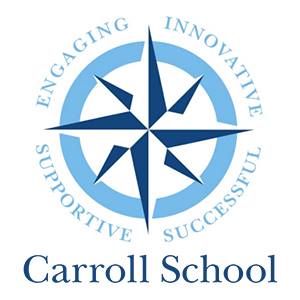 Accredited by NEASC
Senior Accountant
Staff / Full-Time
Carroll School, Lincoln, MA
Overview:
Located in Waltham, Lincoln, and Wayland, Massachusetts, Carroll School is an independent day school that serves students with language-based learning differences, such as dyslexia. Carroll School empowers children to become academically skilled students who are strong self-advocates and confident lifelong learners prepared to enter other academic settings.
Carroll School recognizes that diversity and inclusivity are essential to ensuring students' success and to empowering us all. These elements are critical to the culture of our adult community and a moral imperative. The work we do at Carroll changes lives. As such, we welcome candidates who have strong interpersonal and culturally responsive communication skills and a proven ability to interface professionally and collaboratively with a variety of constituents.
Research shows that people from underrepresented groups apply to jobs if they meet 100% of the qualifications. Carroll School encourages you to break that statistic and apply as it's rare to find applicants who meet all the qualifications. We look forward to receiving your application.
Carroll School is an equal opportunity employer that offers competitive salaries and benefits, including comprehensive professional development opportunities.
Position Summary:
We are seeking a full-time Senior Accountant for our Finance team located on the Wayland campus. This position reports to the CFO and will perform day-to-day accounting functions and lead the work associated with financial reporting, audits and tax filings. Success in this position requires attention to detail, organizational skills, willingness to take initiative and the ability to effectively communicate and work with all members of the school community. The ideal candidate is an accounting professional with a track record of successful project management and effective human interactions.
Responsibilities:
Perform accounting functions and ensure that financial information is both accurate and timely
Review and/or prepare semi-monthly payroll prior to submission by CFO
Prepare monthly financial reporting, including analysis of significant variances vs. forecast/budget
Prepare/send monthly departmental spending reports and respond to inquiries from budget managers
Prepare account reconciliations and related journal entries (monthly, quarterly, annually)
Assist with preparation of annual budget in cooperation with school administrators and department heads; coordinate reforecasting process on a periodic basis.
Coordinate annual audits (financial and 403b), including preparation of schedules. Serve as key contact with auditors. Review drafts of financial statements and tax returns, posing questions and suggesting changes as necessary.
Work with retirement plan recordkeepers, third party administrator and investment advisor to ensure compliance with applicable testing, reporting and filing requirements
Perform ad hoc analysis, special reports and/or data compilation, as requested by CFO
Drive efforts to improve/streamline Finance Office procedures. Investigate potential new software and assist with implementation, as needed.
Communicate accounting policies to employees, monitor compliance and address issues, as necessary.
Perform other financial and/or administrative tasks, as may be required.
Participate in employee and school wide activities including professional learning communities and community events
Qualifications:
You have a bachelor's degree in accounting, 3+ years accounting experience and solid understanding of generally accepted accounting principles
You bring familiarity and proficiency with finance systems such as Excel, Google sheets and accounting software (currently using Quickbooks Enterprise for Nonprofits)
You are independent, deadline-driven and solutions-oriented and thrive in a fast-paced and collaborative environment
You are a team player and your positive customer service attitude makes you excel at communicating with diverse internal and external stakeholders
You have exceptional analytical and strategic thinking skills that set you up for success in identifying areas of process and system improvement and your strong project management skills allow you to drive good ideas forward
Prior supervisory experience is a plus
You are motivated by working in an environment where we focus daily on our mission and are eager to examine topics related to race, class, and privilege in our effort towards becoming an anti-racist organization
Carroll School
Lincoln, MA
Elementary, Middle School, High School
Day
All Gender
Serves Special Needs