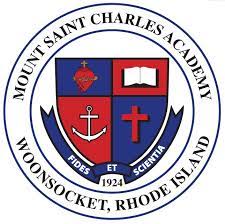 Accredited by NEASC
School Library Media Specialist
Faculty / Full-Time
Mount Saint Charles Academy, Woonsocket, RI
School Library Media Specialist
Mount Saint Charles Academy is a Catholic private school located in Woonsocket, RI and founded in the tradition of the Brothers of the Sacred Heart. Serving approximately 600 students in a 6-12 setting, the Academy prides itself on academic excellence while employing the mission that states all students are known, valued and treasured.
Responsibilities:
Assists faculty and students with research using the online catalog, assorted databases and the Internet
Teaches library research skills upon the request of individual classroom teachers- Attends conferences/workshops to remain informed on current school media center trends
Teaches digital citizenship class to middle school students
Works with individual department chairpersons to keep their respective sections of the library current and supportive of the material being taught in the classroom
Orders relevant material for the library through purchase orders
Keeps an accurate record of the finances of the library and administers the department budget in conjunction with the President
Schedules periodic meetings with administration and academic directors
Classifies and catalogues new materials
Assists with and promotes book circulation
Supervises students in both the library and the media lab
Collaborates with the English department to develop a list of books for summer reading
Maintains a Libguide/website that provides easy access to the catalog and database subscriptions
Communicates with representatives from RILINK and the in-house Director of Technology about consortium membership, technology resources, and professional development opportunities
Manage student behavior by establishing and enforcing rules and procedures
Keep updated with developments in subject area, teaching resources and methods and make relevant changes to instructional plans and activities
Nurture and model love and compassion in Christian community
Respect the dignity of the individual, be consistent and fair, and foster relationships of mutual trust and cooperation.
Communicate Christian values through the quality of his or her relationship with students as well as through the articulation of his or her personal values. The teacher is an adult model of Christian values.
Interested candidates are encouraged to learn more about Mount Saint Charles Academy by visiting our website mountsaintcharlesacademy.org, through our Facebook page or by searching us on Twitter.
Apply for this position at http://bit.ly/MSCapplication
Mount Saint Charles Academy
Woonsocket, RI
High School
Boarding, Day
All Gender
Religiously-Affiliated