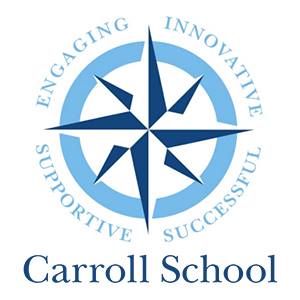 Accredited by NEASC
School Counselor – Summer Program
Staff / Seasonal
Carroll School, Lincoln, MA
School Counselor
Summer Program: Wednesday, June 28, 2023 to  Wednesday, August 2, 2023 (no program July 3rd and July 4th)
Hours: Monday-Friday, 8:00 am – 4:15 pm
Staff Orientation: June 26th and June 27th
About Carroll School:
Located in Waltham, Lincoln, and Wayland, Massachusetts, Carroll School is an independent day school that serves students with language-based learning differences, such as dyslexia. Carroll School empowers children to become academically skilled students who are strong self-advocates and confident lifelong learners prepared to enter other academic settings. Carroll is an inclusive community committed to embracing diverse strengths, identities, and lived experiences in order to give each child what they most need to thrive. 
Summer School Overview:
Summer@Carroll is a five-week summer school program for students entering grades 1-9 who have been diagnosed with a language-based learning difference, such as dyslexia. Students participate in academic classes and recreational programming each day. 
Carroll School is an equal opportunity employer that offers competitive salaries.
Position Summary: 
This position is a member of the Summer@Carroll Counseling Department and reports to the Director of Summer@Carroll. Primary responsibilities include the provision of services to students, parents and teachers of the school regarding social, emotional, health and/or family related concerns. Each school counselor serves one program within Summer@Carroll: Beginning Readers (entering grades 1-2), Elementary (entering grades 3-4), Middle School (entering grades 5-7), or High School Readiness (entering grades 8-9). Summer@Carroll seeks candidates who are motivated to help students attain a positive sense of identity and self worth and who are eager to equip students with skills and strategies for academic and relational success. The ideal candidate is a self-starter who brings a collaborative style, clinical skills relevant to a school setting, and values a community of highly engaged, compassionate, and motivated educators. Summer@Carroll welcomes candidates with experience and/or interest in culturally responsive approaches and practices. 
Responsibilities:
Provide individual counseling and/or crisis intervention services for Summer@Carroll students identified as having adjustment issues or concerns regarding social/emotional functioning 

Partner with Counselors, Enrichment Supervisor, and Summer@Carroll Directors to foster healthy summer community that is focused on meeting the needs of students

Coach enrichment staff on professionalism and how to deal with challenging student behavior

Maintain communication with parents, enrichment  staff, teachers, and outside providers regarding the social/emotional needs and functioning of students 

Function as an integral participant of team and provide consultation to faculty and enrichment staff around social-emotional components of language-based learning differences 

Collaborate with other departments (e.g. Writing, Math, Tutoring, Cognitive) to coordinate efforts for student support 

Attend Administrative Team Meetings to address student concerns
Qualifications:
Masters Degree in Social Work, Counseling, Psychology, or a related field 

LICSW/LMHC or license-eligible strongly preferred 

Experience in a school environment preferred 

Excellent relational skills and a strong capacity to relate to students and parents 
To Apply:
Carroll School
Lincoln, MA
Elementary, Middle School, High School
Day
All Gender