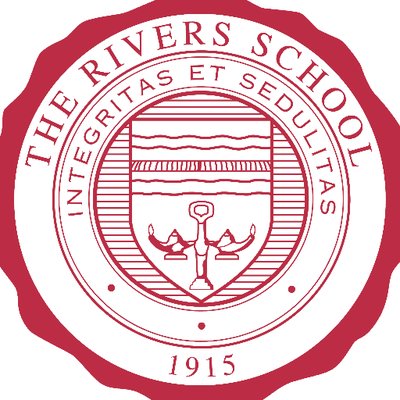 Accredited by NEASC
School Counselor/ Head of Wellness Programming
Full-Time
The Rivers School, Weston, MA
Position Announcement
The Rivers School seeks candidates for the position of full-time clinical school counselor with a particular interest and expertise in social-emotional learning and wellness programming to work in both the Middle and Upper School divisions. This is a 10-month position beginning with orientation on August 23rd, 2022. This School Counselor/ Head of Wellness Programming will report to the Director of Counseling Services.
About The Rivers School
The Rivers School is a coeducational, college preparatory day school for students in grades 6 through 12. Rivers challenges students to achieve their highest levels of excellence in academics, arts, athletics, personal development, and citizenship. The Rivers community sets high standards and expects students to participate actively in their learning while also living out the "humanity" of our motto by fostering a learning environment where every student is known, supported, and valued. The school believes that excellence in education and social development requires an intentionally diverse, inclusive, and socially-responsible community. Rivers is dedicated to preparing its students for leadership in a world that needs their talents, imagination, intellect, and compassion.
Counseling & Wellness Department Philosophy
The counseling philosophy at Rivers centers around the understanding that our primary goal is to support students through normative adolescent development challenges and the pressures that exist in rigorous academic settings and in the larger world. School-based counseling at Rivers works to enhance systems of student support that are ingrained into the school's culture to foster belongingness and individual development, such as the advisory program and grade-level wellness programming. Counseling services, implemented in individual and group settings, seek to equip students with the skills and sense of wellbeing needed to meet high expectations and navigate a complex globalized world while developing holistically as well-adjusted young adults. Rivers believes in a strength-based approach to interventions and prides itself on having a faculty that knows and understands students beyond the confines of their daily classroom contact with those students.
At Rivers, we know that evidence-based prevention programs effectively promote healthy development when they focus on children and their main socializing environment: School. The department is committed to continuing to develop innovative, developmentally-appropriate Wellness programming that asks students in each grade level to hone and apply their critical thinking skills to topics of physical, emotional, relational, and community health.
The Counseling and Wellness Department shares the core elements of the school's Diversity Mission statement in our intentional efforts to understand, embrace, and amplify diverse perspectives, experiences, and identities. As clinicians and wellness educators, Rivers School Counselors seek to equip every individual to find and be their authentic self. The ideal candidate supports the inclusive and diverse community we aspire to be, and we strongly encourage applicants with identities, backgrounds, perspectives, and/or experiences that are historically underrepresented in independent schools to apply for this position.
Position Overview
Working collaboratively with the Director of Counseling Services, Middle and Upper School Deans of Students, School Nurses, Athletic Trainers, and the respective Division Heads, this School Counselor will be responsible for direct clinical mental health counseling duties in addition to their role in leading the Wellness Program. As Head of Wellness Programming, this counselor will drive the coordination of the social and emotional learning initiative and prevention programs to maximize student success, promoting equity and access to the full Rivers experience for all students. This work will entail mental health crisis response and safety assessment during the school day, managing an ongoing counseling caseload of Middle and Upper School students, and the Wellness program responsibilities listed below.
Specific Job Responsibilities
Providing direct individual and group counseling services to both Middle School and Upper School students, which includes recognizing and responding to student mental health needs and assisting students and families in connecting to resources for therapeutic support and long-term counseling outside of school as needed
Managing an individual caseload of students, which may include conducting crisis assessments and interventions around safety concerns and other urgent mental health matters in collaboration with the Director of Counseling Services
Serving as the Head of the Rivers Wellness Programming arm of the Counseling and Wellness Department, which includes:

Leading partnership with the McLean School Consultation Program
Leading the 9th Grade Wellness Seminar course
Spearheading the development and implementation of counseling groups for a variety of student experiences
Coordinating the Healthy Relationships programming for the Upper School, with the goal of creating a longitudinal 6-12 Relational Wellness curriculum
Assisting colleagues who are implementing Social-Emotional Learning initiatives in their courses or through extracurricular activities

Serving as Faculty Advisor for the student Active Minds club
Serving as a member of the Wellness Team, collaborating with faculty members, administrators, families, and the community for student success (particularly in cases of Medical Leaves/ prolonged absences, specific student concerns, and universal prevention programming)
Consulting with parents/guardians and teachers/advisors to provide mental health informed guidance, which includes developing and leading caretaker and faculty workshops around social-emotional learning and child development
Attending and contributing to appropriate division/faculty meetings, consulting as a resource to faculty and administration, and providing psychoeducation as appropriate
 Unique Job Opportunities
Work collaboratively with Wellness Team members to create an innovative grade 6-12 Wellness Program
Opportunity to partner with McLean Hospital clinicians through their School Consultation Service
Autonomy to develop an individual student caseload and implement group counseling around topics congruent with the counselor's specific skill sets and areas of interest/expertise
Work with the Director of Counseling Services and School Administration to develop procedures and policies that reflect current best practices in the field
Career growth potential and opportunities to step into increased leadership roles
Required Qualifications/Experience/Skills
Master's Level clinical social worker, or an advanced degree in Clinical or Counseling Psychology
A Massachusetts DESE School Adjustment Counselor/School Social Worker License (Initial Level or higher), LICSW/ LCSW, LMHC, or equivalent state or nationally approved license
Experience providing evidence-based counseling support in a school setting and specific familiarity with crisis/ safety assessment and emergency referrals
An established record of Wellness/ Social-Emotional Learning program development and implementation
Strong leadership, communication, and interpersonal skills, particularly the desire and aptitude to work collaboratively in a two-person department
Commitment to working in, and working to create, a welcoming, inclusive, antiracist community with a desire to continue personal growth in anti-bias education
Desirable Qualifications
Experience working with Middle and Upper School age students
Prior experience working in an Independent School setting
Experience presenting to parents about adolescent development and parenting
The Rivers School Hiring Philosophy
The Rivers School is an equal opportunity employer dedicated to non-discrimination in employment. The Rivers School selects the best qualified for the job based on job-related qualifications regardless of race, age, religion, gender, national origin, ancestry, marital status, sexual orientation, gender identity, disability, veteran's status, or any other status protected by applicable law. We welcome candidates who will increase our school's diversity.
Application Process
Applicants should submit a cover letter and resume via email to Eliza Adler, Director of Counseling Services.
The Rivers School
Weston, MA
Middle School, High School
Day
All Gender