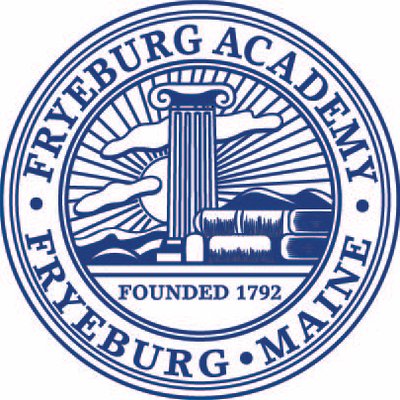 Accredited by NEASC
Residential Life Associate
Staff / Full-Time
Fryeburg Academy, Fryeburg, ME
Position Opening: Residential Life Associate
To promote and ensure a living environment and experience in which Fryeburg Academy boarding students will thrive, the  Residential Life Associate provides program support that is innovative, supportive, and collaborative. The associate works with an engaged staff and acquaints him/herself with each student in the program, assisting in all aspects of residential life operations: staff training, scheduling, and evaluation; policy and procedure review, development, and implementation; activities-planning and community-building; The residential life associate work schedule includes afternoon, early evening and some weekend responsibilities. 
Specific duties fall among the following essential functions of the job:
Residential Life:
Program
Staff the student union and residential life office in the afternoon.

Collaborate on the design and planning of the weekend activities program. Assist in the scheduling of the weekend activities team. 

Advise the Dorm Council and support student led events and activities

Support in the planning and execution for the Dorm Olympics and all resident community events

Take a leadership role and collaborate on the  planning and implementation of special community wide events

Coordinate and oversee the afternoon activities program in collaboration with the director of residential life. 
Administration
Assist with resident student travel arrangements to and from campus for the start of school and breaks; for scheduled appointments, and approved weekend travel

Maintain student emergency contact information; create texting groups for parents, and for students

Manage weekend permissions and sign-outs

Manage residential life email box

Organize materials for WEM

Manage the distribution of  student mail 

Maintain student activity database and track student participation in afternoon and weekend activities

Other items as assigned to support the program
Κnowledge, Skills, Dispositions:
A strong belief in independent education, and particularly the mission of Fryeburg Academy

Excellent communication skills, both oral and written

Proficiency in Excel and Google Docs; experience with Blackbaud a plus

Excellent organizational skills; ability to balance office duties and timelines

Commitment to office team processes
Qualifying Education and Experience
Bachelor's degree preferred

Experience working with youth in a residential school  setting or youth development program
Interested candidates should submit an application, letter of interest, résumé, college transcripts, and three references to Erin Wentworth, Human Resources Manager (ewentworth@fryeburgacademy.org).
All Fryeburg Academy employees are subject to Maine Dept. of Education Criminal History Record Check and are required to be vaccinated against COVID-19.
Fryeburg Academy is an Equal Opportunity Employer.
Fryeburg Academy
Fryeburg, ME
High School, Post Graduate
Day, Boarding
All Gender
Town Academy