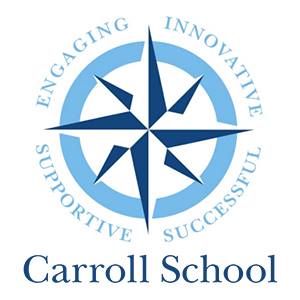 Accredited by NEASC
Registrar
Staff / Full-Time
Carroll School, Lincoln, MA
 About Carroll School:
Located in Waltham, Lincoln, and Wayland, Massachusetts, Carroll School is an independent day school that serves students with language-based learning differences, such as dyslexia. Carroll School empowers children to become academically skilled students who are strong self-advocates and confident lifelong learners prepared to enter other academic settings. Carroll is an inclusive community committed to embracing diverse strengths, identities, and lived experiences in order to give each child what they most need to thrive. Carroll School is an equal opportunity employer that offers competitive salaries and benefits, including comprehensive professional development opportunities.
Position Summary:
The Registrar is responsible for the maintenance of all student records including student files and communicating information about the enrollment process. This person is responsible for all documentation relating to the student population and will coordinate all outgoing communication. Works in collaboration with the database manager to ensure smooth transition and processing of all student information.
Responsibilities:
Ensure accurate filing of student information, including alumni/ae records, and maintain file security in the school's student information database in conjunction with the school's Database Manager
Assist Database Manager in correcting & maintaining integrity of the student data and coordinate with other departments to capture & update information
Track student demographics, custody, and permission forms, including bussing/transportation data and census information in the school's student information database
Download each student's application records from Ravenna and upload those same records into the school's student information database.
In the school's student information database, records updated transportation details including approved-to-pick-up persons.
In the school's student information database, present trimester student reports; posts progress reports 4 x yearly
Prepare and forward transcript information and health records for students in transition to next schools
Communicate with parents, districts, and doctors Carroll's involvement in the IEP process
Manage form completion requests and observation requests for all 3 campuses
Request, collect, and record processed Release of Information forms.
Track and record test results in the school's student information database and coordinate with the record sheet of the date of most recent Neurological testing.
Enter and updates information on newly funded students throughout the year
Keep current on special education regulations
Upload bi-annual census reports DESE portal
Send bi-annual census reports to all residential cities and towns
Send monthly attendance reports as requested to families of funded students.
Ensure all outgoing information comports with DESE regulations
Under direction, answers subpoena inquiries
Upon request, issue work permits
Maintain records to track and keep in compliance
Complete compliance reports for School Compliance Officer
Other duties include:
Provides front desk/receptionist coverage as needed
Assist Administrative Assistants on all 3 campuses with their responses for
requests for school form completion and observation scheduling
Maintains accommodation lists
Qualifications:
Bachelor's degree and 5 years' relevant experience
Understanding of relevant state and federal regulations regarding student files
Prior experience with database software; Aspen Software experience preferred
Familiarity with Special Education either through course work or experience
Detailed orientation and strong organizational and communication skills
Ability to work well with others as well as independently
Excellent interpersonal & communication skills, and ability to maintain a professional demeanor in working with parents, teachers, and representatives from sending school districts
Ability to keep information confidential
Fully vaccinated against Covid -19
Interested applicants should email resumes to jobs@carrollschool.org.
Carroll School
Lincoln, MA
Elementary, Middle School, High School
Day
All Gender