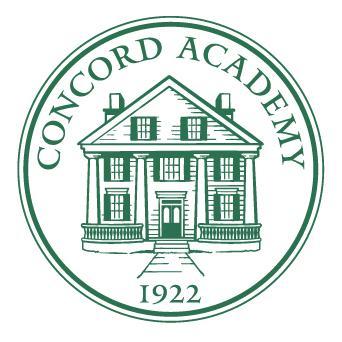 Accredited by NEASC
Nurse
Staff / Full-Time
Concord Academy, Concord, MA
Concord Academy, an independent college preparatory school for grades 9 through 12 located in Concord, Massachusetts, seeks a school nurse. Chartered in 1922, the school currently enrolls approximately 400 boarding and day students from ten countries and territories and fifteen states.
We seek an empathetic and experienced professional with genuine enthusiasm for working with adolescents, curiosity about learning, and commitment to professional and personal growth to fill a critical role in supporting our students and families.  The ideal candidate is an educator and role model who strengthens and facilitates the educational process by improving and protecting the health of the student body. The school nurse is uniquely qualified in preventative health, health assessment, and referral procedures.
This is an academic year (10 month) full-time position. The health center is staffed 24 hours per day 7 days per week during the academic year. We seek nurses willing to work three 12 hour shifts on a rotating schedule 7 AM – 7 PM or 7 PM – 7 AM (including weekends). This role reports to the Director of Medical Services.
We seek to employ individuals who reflect and support our mission-driven commitment to creating and maintaining a diverse and equitable school community.  The successful applicant will have demonstrated experience with inclusive care practices and a commitment to advancing the core tenets of the school's mission.
Responsibilities:
Collect, maintain, evaluate, and update health data for all students; communicate with parents throughout the year regarding changes in health status.
Communicate any special requirements or precautions to faculty/staff/house faculty on a need-to-know basis; provide adults with the training necessary for the health and safety of all students.
Provide assessment and nursing care for students throughout the day. Oversee prescription and non-prescription medications in accordance with state regulations, including storage and handling and documentation. Use electronic health records (currently Magnus Health) to document all student visits.
Promote and assist in the control of communicable diseases through immunization screenings, influenza vaccine administration, and the early detection, surveillance, and reporting of contagious diseases.
Collaborate with the school physician and other healthcare professionals to assure that appropriate diagnoses and treatments are provided for students as needed, either on or off-campus.  This includes making appointments for boarding students, arranging transportation, and accompanying students to outside medical appointments. Ensure that parents are kept informed of any change in the health status of their children.
Perform limited lab testing in the office, including blood draws, rapid-strep and strep cultures, urine dipstick and routine urinalysis and cultures, stool cultures, etc. as ordered and indicated.
Work closely with school physicians in developing and updating annual standing orders, and school health policies.
Collaborate daily with Counselors and Athletic Trainer.
Dispense and distribute weekend medications for boarding students to House Faculty. Maintain EpiPens and first aid kits in the Houses. Maintain accurate documentation of all medications given via House Faculty. Coordinate medication for students and training for adult chaperones on school trips.
Serve as a liaison to local public officials.
Perform other duties as assigned.
Qualifications:
Registered Nurse with Massachusetts license in good standing.
3-5 years of experience as a professional R.N.
School Nurse experience preferred. Boarding school experience, a plus.
Certified in CPR, BLS, or ALS.
Proficient in MS Office, Google Suite.
Experience with electronic health records management systems; experience with Magnus Health is highly desired.
Knowledge of state health regulations.
Ability to operate medical equipment as required.
Understanding of childhood growth and developmental stages.
Ability to relate to and communicate with adolescents.
Strong verbal and written communication skills.
Ability to assess situations and act quickly.
Have exceptional social emotional intelligence and interpersonal skills.
Meticulous attention to detail.
Ability to work independently as well as part of a highly integrated team.
Curiosity and interest in CA's culture, mission, and aspirations.
Flexibility and a sense of humor.
Integrity, honesty, sound judgment, and a strong work ethic.
Able to sit, stand, bend, and walk for extended periods.
Able to push/pull a wheelchair.
Able to lift 50 lbs (able to lift a middle-school aged child).
Potential for contact with blood and other body fluids, blood-borne pathogens, and communicable diseases.
Candidates must successfully complete a criminal background check.
Interested candidates, please submit a letter of interest and a resume via the ADP portal addressed to: Julie Genova, Director of Medical Services.
 To learn more about Concord Academy, please visit our website: www.concordacademy.org
Concord Academy
Concord, MA
High School
Day, Boarding
All Gender