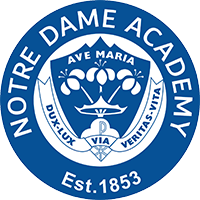 Accredited by NEASC
Musical Director
Faculty / Part-Time
Notre Dame Academy, Hingham, Hingham, MA
MUSICAL DIRECTOR
Part Time – 8-10 hours per week – must be available:
Auditions – March 7th/8th/9th
Production Week – May 8-11th
Dress Rehearsal – May 12th
Performances – May 13th/14th at 7:30 and Sunday May 15th at 2pm.
Notre Dame Academy, Hingham, Massachusetts–an all-female college preparatory middle and high school educating students in grades 7-12 is seeking a Musical Director for their Spring 2022 Musical. Individuals with high energy, a creative spirit, and a passion for empowering young women to achieve success in the field of musical theatre are encouraged to apply. Notre Dame Academy (NDA) is a vibrant, Catholic learning community, sponsored by the Sisters of Notre Dame de Namur. The Academy guides young women in their personal faith formation, challenges students to pursue academic excellence, and encourages social responsibility on behalf of global justice.
Job Summary
The Musical Theatre Director is an integral member of the Notre Dame Academy Performing Arts team responsible for working with the Director of the Company to plan, prepare, and execute functions related to the successful production of our spring musical. The Musical Director operates under the purview of the Visual and Performing Arts Department Chair and the Principal.
Essential Duties and Responsibilities
Operations & Stewardship:
Audition, cast and train students in individual and ensemble roles within the musical.
Orders, maintains and returns all scripts/librettos/orchestration materials and maintains our good standing with our musical licensing company.
Proficient in piano, sight reading and transposition (if necessary)
Assesses orchestral needs
Contracts musicians to play in the live orchestra in cooperation with the Production and Payroll departments.
Ability to conduct a live musical pit orchestra
Serves as rehearsal accompanist for rehearsals
Knowledgeable about student support in vocal training: proper vocal techniques, body posture, exercise, memorization and acting through the song.
Interest in and knowledge of teaching, working with and overseeing young students (ages 12-18) in a musical theatre program.
Ability to work directly with our sound support technicians in evaluating and maintaining our sound equipment for both students and orchestra members.
Knowledge of technical sound support welcome
Physical Demands:
This person must be able to hear and distinguish musical and audible tones.
• This person needs to occasionally move about in a classroom and office environments to access desks and office machinery.
• This person must be able to play a piano.
• This person occasionally must lift, move or transport music sheets, orchestration, and audio equipment up to 50lbs with assistance.
• Must be able to detect visual cues on the stage from a distance of 40 feet
Qualifications:
•2-3 years of experience in a music/musical theatre or educational setting with a focus on practical applications of student musicianship and performance.
•Experience teaching, musical directing, composing/arranging experience (you have worked as the sole music director in a musical production previously.)
• Working knowledge of all aspects of the Theatre process – production and technical, as well as performance.
• High level of piano/sight-reading skills.
•Ability to supervise and coordinate the activities of large groups toward a common purpose.
•Excellent organizational skills, time management, attention to detail, proficient and accurate record, and inventory reporting.
•Strong communication and problem-solving skills.
•Commitment to confidentiality, discretion, ethical standards, and professionalism.
•Ability to manage multiple projects in a fast-paced environment.
•Team oriented with experience working collaboratively with volunteers and diverse constituencies.
•Commitment to the core mission and values of Notre Dame Academy.
Position Type: Part-time
Positions Available: 1
Notre Dame Academy, Hingham
Hingham, MA
Middle School, High School
Day
Girls