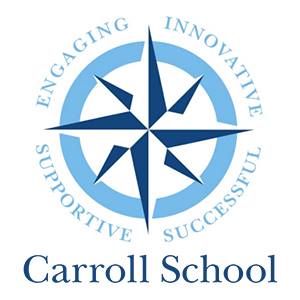 Accredited by NEASC
Multi-Arts Teacher (Upper School/Middle School)
Faculty / Full-Time
Carroll School, Lincoln, MA
School Overview:
Located in Waltham, Lincoln, and Wayland, Massachusetts, Carroll School is an independent day school that serves students with language-based learning differences, such as dyslexia. Carroll School empowers children to become academically skilled students who are strong self-advocates and confident lifelong learners prepared to enter other academic settings. Carroll is an inclusive community committed to embracing diverse strengths, identities, and lived experiences in order to give each child what they most need to thrive. Carroll School is an equal opportunity employer that offers competitive salaries and benefits, including comprehensive professional development opportunities.
Position Summary: 
The Carroll School seeks teaching candidates with experience and/or interest in performing arts (Theater/Drama/Music/other), visual arts and design (Studio Art/Makerspace/Photography/other), and movement (Fitness/Physical Education) to serve the school as a full-time faculty member.  
The ideal candidate brings a collaborative style, is self-directed, child centered and values a community of highly engaged, compassionate, motivated educators who embrace and apply culturally responsive teaching practices.  Carroll encourages candidates who are motivated by helping students to attain a strong sense of identity, self-worth, and who are eager to equip students with skills and strategies for academic and personal success. Candidates with a growth mindset and a true passion  and commitment to lifelong learning are encouraged to apply. 
Responsibilities:  
Teach 5 sections of Multi-Arts (as defined by the description above)

Apply a multisensory, diagnostic, prescriptive approach to instruction 

Create highly focused data informed lesson plans specific to student's needs 

Work with Multis Team leader and Upper School Division Head to develop and customize grade level curriculum through a culturally responsive lens 

Develop positive working relationships with all constituencies; students, parents, colleagues and administration 

Offer an after-school activity (M-Th 3:10-4:45pm)  (at least one trimester-per school year; with stipend)

Perform other duties as required (student supervisory duties: lunch, break, drop off/pick up as scheduled)
Qualifications: 
Bachelor's Degree, Master's Degree preferred 

Have the ability to teach using multi-sensory education methods

Willingness to train in highly specialized approaches to teaching students with

language based learning differences

Desire to teach multicultural curriculum 

Proficient written and verbal communication skills 

Minimum of 3 years teaching experience preferred
Carroll School
Lincoln, MA
Elementary, Middle School, High School
Day
All Gender