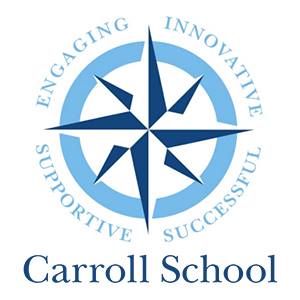 Accredited by NEASC
Middle School Counselor
Faculty / Temporary
Carroll School, Lincoln, MA
Middle School Counselor – Temporary October 2021 through February 2022
School Overview:
Located in Waltham, Lincoln, and Wayland, Massachusetts, Carroll School is an independent day school that serves students with language-based learning differences, such as dyslexia. Carroll School empowers children to become academically skilled students who are strong self-advocates and confident lifelong learners prepared to enter other academic settings.This temporary position is located on the Lincoln campus.
Carroll School recognizes that diversity and inclusivity are essential to ensuring students' success and to empowering us all. These elements are critical to the culture of our adult community and a moral imperative. The work we do at Carroll changes lives. As such, we welcome candidates who have strong interpersonal and culturally responsive communication skills and a proven ability to interface professionally and collaboratively with a variety of constituents.
Research shows that people from underrepresented groups apply to jobs if they meet 100% of the qualifications. Carroll School encourages you to break that statistic and apply as it's rare to find applicants who meet all the qualifications. We look forward to receiving your application.
Carroll School is an equal opportunity employer that offers competitive salaries and benefits, including comprehensive professional development opportunities.
Position Summary:
This position is a member of the Carroll Counseling Department and reports to the Director of Counseling. Primary responsibilities include the provision of services to students, parents and teachers of the school regarding social, emotional, health and/or family related concerns. Carroll School seeks candidates who are motivated to help students attain a positive sense of identity and self worth and who are eager to equip students with skills and strategies for academic and relational success. The ideal candidate is a self-starter who brings a collaborative style, clinical skills relevant to a school setting, and values a community of highly engaged, compassionate, and motivated educators. Carroll welcomes candidates with experience and/or interest in culturally responsive approaches and practices.
Responsibilities:
Provide counseling, case management and/or crisis intervention services for middle school students identified as having adjustment issues or concerns regarding social/emotional functioning

Lead student groups as needed focusing on skill development (e.g. social skills or self-regulation) or student interests (e.g. community service/social activism)

Maintain communication with teachers, parents and outside providers regarding the social/emotional needs and functioning of students and provide consultation as needed to faculty around social-emotional components of student profiles 

Assist in the planning and implementation of schoolwide SEL programs (e.g.Responsive Classroom), Health & Wellness lessons and other pro-social, community building activities in a culturally responsive manner

Function as an integral participant of a grade level team, assisting in general operations of that grade 

Attend program, departmental,and school-wide trainings, meetings and activities as required

Other duties as assigned by Counseling Director of Division Head
Qualifications:
Masters Degree in Social Work, Counseling, Psychology, or a related field

LICSW/LMHC or license-eligible strongly preferred

Experience in a school environment preferred

Excellent relational skills and a strong capacity to relate to students and parents
Interested candidates should email resumes to jobs@carrollschool.org
Carroll School
Lincoln, MA
Elementary, Middle School, High School
Day
All Gender
Serves Special Needs