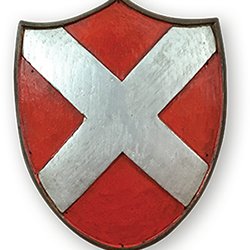 Accredited by NEASC
Librarian/Media Specialist
Faculty / Full-Time
St. Andrew's School, Barrington, RI
Qualifications:
Masters' degree in education preferred
Expertise in the following:
● Transliteracy
● Emerging technology tools
● Flipped Learning
● Academic integrity
IB experience preferred
Key Responsibilities:
This position reports to the Assistant Head of School for Academics. This is a 10-month position
(September through June 30th):
Advising:
● Advise students who need individualized support, particularly for executive functioning
○ This includes the start of the day: helping students to be organized for classes from a
materials management perspective and check out at the end of the day: supporting the
planner, prioritizing, and organizing what to bring home.
● Serve as an advocate and coach for each advisee
○ Communicate with parents bi-weekly in the form of a parent contact (email or phone
call) to keep parents informed about their child's overall academic and
social/emotional progress.
Leader:
● As a leader, the school librarian creates an environment for students that nurtures the
continuous cycle of inquiry, action, and reflection, as well as encourages students to be
creative problem-solvers:
○ Raises awareness in the form of monthly book days or weeks that help students to
draw links between the real world, information literacy, and digital literacy
○ Coordinates extended essays in the DP program
● The school librarian is an exceptional communicator and an enthusiastic team member:
○ Demonstrates proficiency in communication that is high touch provides a supportive
disposition and adheres to a 24 hour turnaround time for email responses
○ Partners with the Assistant Head of School for Academics and dept heads to plan
professional weeks
○ Sits on committees as designated by the Assistant Head of School for Academics
○ Contributes weekly to the newsletter
● They anticipate future obstacles and continually evolve to meet challenges. The school
librarian demonstrates his or her role as a visible, active leader in the school/library
community by:
○ Maintaining a cooperative relationship with administration, staff, students, parents,
community, and where applicable, local public libraries
○ Participating in school improvement activities
○ Sharing expertise at faculty meetings, as well as at external and
nationally/internationally recognized conferences, on an annual basis
○ Creating an environment that is conducive to collaboration with teaching staff, active
and participatory learning, and resource/research-based instructional practices
○ Sharing with the school community and adhering to collaboratively developed and
up-to-date policies concerning issues such as materials selection, circulation,
reconsideration of materials, copyright, privacy, and acceptable use
○ Embracing the use of instructional technology to engage students and improve
learning while providing 24/7 access to digital information resources for the entire
learning community
○ Remaining current in professional practices and developments, information
technologies, and educational research as it pertains to IB programs
○ Identifying and requesting to attend professional development activities intended to
increase the school's "librarian" instructional effectiveness
Instructional Partner:
● As an instructional partner, the school librarian works with teachers and other educators to
build and strengthen connections between student information and research needs, curricular
content, learning outcomes, and information resources:
○ Responsible for training teachers on the IB interface and google
○ Teaming with content teachers and meeting weekly for planning purposes
○ Co-teaches a course on academic writing for diploma students
○ Leads professional development once per month for a total of five times per year on
topics as determined by the Assistant Head of School for Academics
○ Reports monthly circulation numbers to Assistant Head of School for Academics to
help determine topics
● The school librarian supports students' success by guiding them in:
○ The continuous learning cycle of inquiry, action, and reflection; all learning activities
are designed around this premise
○ Reading for understanding, pleasure, and the exploration of diverse viewpoints and
genres
○ Using information for defined and self-defined purposes
○ Accessing, evaluating, and communicating information regardless of the format
○ Building on prior knowledge and constructing new knowledge
○ Collaborating with peers to enhance learning through creating dynamic and effective
partnerships with teachers
○ Self-assessing work and the work of collaborative learning groups
The school librarian instructs students by:
○ Using a variety of techniques and methodologies that are accessible to myriad
learning profiles, while simultaneously promoting high levels of achievement
○ Incorporating best practices in differentiation and being able to demonstrate this on a
consistent basis
○ Incorporating the use of technology to make subject matter learning relevant and
enhance student learning outcomes
○ Demonstrating knowledge of and ability to use research-based principles of effective
instruction
○ Providing instruction based on current information literacy curricula as designated by
the IB
○ Engaging in diagnostic, formative, and summative assessments of student learning
Other:
● Tracks how all time is spent in the aforementioned areas through the use of an activity log
● Leads two seasons of after school activities
● Participates in the residential life program, which includes weekend duties approximately five
times per year
If interested, please submit a cover letter and current resume by June 1st, 2023
Alexandra R. McMullen
Assistant Head of School for Academics
amcmullen@standrews-ri.org
St. Andrew's School
Barrington, RI
Elementary, Middle School, High School, Post Graduate
Day, Boarding
All Gender
Religiously-Affiliated