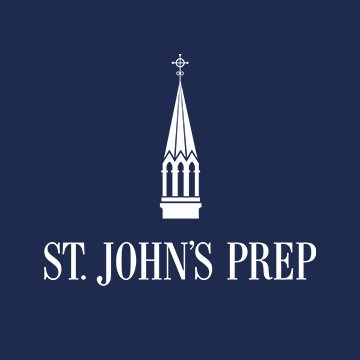 Accredited by NEASC
Interim School Counselor, Grades 9-12
Faculty / Full-Time
St. John's Prep, Danvers, MA
About St. John's Prep
St. John's Prep is an inclusive, Catholic, Xaverian Brothers Sponsored School for young men in grades 6 through 12. Founded on the Xaverian values of compassion, humility, simplicity, trust, and zeal, we educate students to be, do and stand for good in the world. We enroll approximately 1,500 students from more than 90 communities in Massachusetts, New Hampshire, and Maine.
Position Overview and Responsibilities
St. John's Prep has an immediate opening for a school counselor. The counselor will work with approximately 150 students in grades 9 through 12, providing support for students and their families during their high school years at St. John's. More information about the School Counseling Department may be found on the school's website. The role of a school counselor is integral to our mission of "educating the whole person" at St. John's. The school counselor will be expected to:
Monitor individual student progress toward achieving success in academics and personal/social areas.

Facilitate the college search and application process at developmentally appropriate points.

Assist in the administration of standardized testing.

Collaborate with colleagues to plan and implement parent education and outreach and take part in delivering these programs.

Collaborate with members of the department to plan and implement the academic guidance curriculum. 

Provide group and/or short-term personal counseling to students.

Serve as a liaison between the school and individual therapists and community service agencies that may be working with individual students and families.

Establish an effective working relationship with parents, faculty, staff, and school leaders.
Skills and Competencies
Familiarity with 504 and IEP requirements.

Familiarity with best practices related to the college search timeline and application requirements.

Being knowledgeable of applicable laws regarding privacy issues and mandated reporting requirements.
Education and Experience
A master's degree in school counseling or related field

One or more years of experience working as a counselor in a school or youth setting. 

Candidates should have strong interpersonal skills, excellent writing skills, be team oriented and enthusiastically approach their work with adolescents.
All members of the faculty are expected to give witness to the mission of St. John's, as well as to our identity as an inclusive, Catholic, Xaverian Brothers Sponsored School. In addition to teaching responsibilities, St. John's encourages all members of the faculty to be involved in the life of the school beyond the classroom. The school offers a wide range of co-curricular, intramural and interscholastic programs. For more information about our academic, spiritual and student life programs, please visit www.stjohnsprep.org. 
Physical Requirements:
Standing/sitting for long periods of time.

Bending, lifting, pushing, kneeling, crouching, crawling, stooping.

Must be able to lift up to 50 pounds.

Must be able to reach at and above shoulder height to access higher areas of equipment, etc.

Must be capable of adapting to frequent changes in position throughout the workday.

Hearing and speaking to exchange information in person or on the telephone.

Use of hands and fingers for manipulation, and using computer keyboard, educational tools, play equipment, and perform first aid and CPR.

Specific vision abilities required include close vision, distance vision, color vision, and depth perception.
St. John's Prep is committed to building a diverse and inclusive campus community. We welcome applications from underrepresented groups. We seek applicants who demonstrate a commitment to multiculturalism and diversity that is manifested in classroom practice, student engagement, interpersonal communication, and curricular decisions. For more information about our academic, spiritual and student life programs, please visit www.stjohnsprep.org. 

Interested candidates are asked to apply via the online Application for Employment found on the Employment page of stjohnsprep.org. On the application, candidates will need to provide a cover letter, resumé, and academic transcripts. Please, no phone calls.
St. John's Prep
Danvers, MA
Elementary, Middle School, High School
Day
Boys