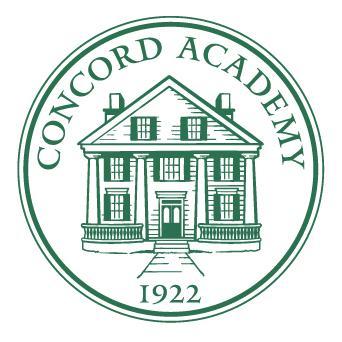 Accredited by NEASC
History Teacher
Administrator / Full-Time
Concord Academy, Concord, MA
Concord Academy, an independent, co-educational boarding and day school renowned for its world-class faculty, passionate students, and graduates who make their mark on the world, seeks to fill a three-quarter time to full time opening for a History teacher for the 2022-2023 academic year.
Founded in 1922, Concord Academy has long balanced high academic standards with a focus on educating the whole student through academics, the arts, athletics, and cultural opportunities.
Self-expression, storytelling, and careful listening are hallmarks of the Concord Academy experience.
We actively seek applicants who reflect and support our mission-driven commitment to creating and maintaining a diverse and equitable school community. Successful candidates will demonstrate a strong desire to incorporate inclusive teaching practices and advance the tenets of the school's mission.
Concord Academy Mission Statement
We are a community animated by love of learning,
diverse and striving for equity,
with common trust as our foundation.
Honoring each individual, we challenge and expand
our understanding of ourselves and the world
through purposeful collaboration and creative engagement.
We cultivate empathy, integrity, and responsibility
to build a more just and sustainable future.
The school seeks to appoint an experienced teacher in support of a strong and well-established history program. Concord Academy's history department exposes students to the diversity of the human experience across six continents and from the ancient world to the present, and fosters strong skills in reading, writing, research, and analysis. The ideal candidate embraces a discussion-based approach to learning, encourages students as they grapple with challenging questions and texts, and facilitates the development of analytical writing and presentation skills. They will value and seek out opportunities to collaborate with colleagues and engage with a diverse community. They will have a genuine enthusiasm for working with adolescents, curiosity about learning, a creative and innovative approach to curriculum design and experimentation, and a commitment to professional and personal growth. The successful candidate will have an undergraduate degree in history, or a related social science discipline with strong coursework in history. An advanced degree is preferred, but not required.
In support of a curriculum that provides mirrors and windows to a diverse student body, the history department is especially interested in identifying a colleague who can complement and expand upon the department's current offerings. Because our history department does not teach AP-oriented classes or surveys, candidates should identify subfields in which they specialize, and discipline-specific courses they would like to offer. (Course offerings for 2021-2022 can be viewed here.) A demonstrated record of teaching African-American history is desirable but not required to apply.
The school provides a competitive benefits package and salary is commensurate with experience. All faculty members at Concord Academy participate fully in the life of the school; responsibilities include advising, serving on committees and/or clubs, and periodically providing an adult presence at school events. Coaching an athletic team is welcomed but not required and is remunerated separately. On-campus housing may be available, but it is limited, and faculty members are not required to live at the school.
Interested candidates are asked to send a cover letter, resume, and transcripts to: Justin Bull
Interim Dean of Faculty
Application materials for this position are preferred by January 28th, 2022. If you are considering applying after this date please contact the school to inquire as to the status of this search.
To learn more about Concord Academy, please visit our website: www.concordacademy.org.
Concord Academy
Concord, MA
High School
Day, Boarding
All Gender