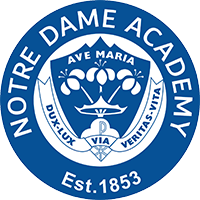 Accredited by NEASC
Head Coach, Indoor & Outdoor Track & Field
Staff / Seasonal
Notre Dame Academy, Hingham, Hingham, MA
Head Coach, Indoor & Outdoor Track & Field
Notre Dame Academy – Hingham, an all-female college prep high school educating young women in grades 7-12, is seeking an Indoor & Outdoor Track & Field Head Coach with high energy, a creative spirit, and a passion for empowering young women. Notre Dame Academy is a vibrant, Catholic learning community, sponsored by the Sisters of Notre Dame de Namur. The Academy guides young women in their personal faith formation, challenges students to pursue academic excellence, and encourages social responsibility on behalf of global justice.
Our track & field programs runs during the winter and spring season (end of November through the end of February, middle of March through June).
Components of Responsibilities
Demonstrated knowledge of Indoor & Outdoor Track & Field rules and techniques and aptitude for the following performance responsibilities:
• Ability to promote school spirit and good sportsmanship; maintain team discipline; and generate enthusiasm within the team.
• Collaborate with all coaches within the program to create a strong overall growth in high school Indoor & Outdoor Track & Field.
• Assist Athletic Director in scheduling of interscholastic contests, eligibility of student-athletes, game management.
• Perform other related duties as determined by the Athletic Director and/or Principal.
• Comply with all District policies and procedures as outlined in Coaches' Handbook Job Requirements
Job Requirements
• Previous varsity high school Indoor & Outdoor Track & Field coaching experience required.
• Previous college playing experience preferred.
• Hold a valid CPR/AED/First Aid Certification or be willing to become certified.
• Successfully completed the NFHS concussion certification class and ability to adhere to all school and state concussion policies.
Please send resume to Kristen Kelly at: Kmcgill@ndahingham.com
*Notre Dame Academy seeks to create a working and learning environment that reflect the society and community in which we are located, and we actively encourage candidates of all backgrounds to apply.
Notre Dame Academy, Hingham
Hingham, MA
Middle School, High School
Day
Girls