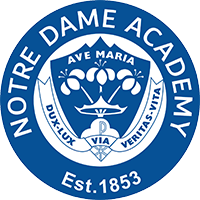 Accredited by NEASC
Guidance and College Counselor
Faculty / Full-Time
Notre Dame Academy, Hingham, Hingham, MA
Notre Dame Academy, a Catholic school sponsored by Sisters of Notre Dame de Namur, educates and empowers young women in grades 7-12. We are an academically rigorous learning community that cultivates life-long learners, critical thinkers, and open-minded leaders. We welcome students of all religious traditions guiding them in their personal faith formation and inspiring them to see the goodness of God as we honor the dignity of the individual and care for all creation.
GENERAL OVERVIEW
Reporting to the Director of Guidance and College Counseling, the Guidance and College Counselor is a member of the guidance team and is responsible for assisting students in grades 9 – 12. Through individualized meetings as well as teaching classes, the School Counselor will advise students in their academic, social, and emotional development. The School Counselor will also guide students thoughtfully and carefully through their college search process while understanding college enrollment trends and practices. This individual will work closely with students, parents, guardians, teachers, and other school personnel to ensure the needs of students are appropriately addressed. This is a 10.2 month position, ranging from two weeks before the start of school through the month of June.
SPECIFIC RESPONSIBILITIES
Curriculum Development and Teaching
Participates in curriculum development as well as specific lesson planning and teaching of guidance seminar classes to all high school grade levels.
Facilitates classroom learning in guidance seminar classes and contribute to the curriculum development of for all grade high school levels as it relates to social skills, conflict resolution, stress management, bullying, and other relevant topics specific to the age group.
Counseling
Serves as the key resource for high school students to seek assistance with academic, social, emotional, and college advising issues and opportunities.
Consults with students, their families, and teachers to provide recommendations and/or implement strategies that will contribute to student success in and out of the classroom.
Provides individual counseling related to academic performance, social experiences, and mental health challenges.
Tracks student progress by conducting regular check-ins, adjusting care plans, and proactively communicating status updates to necessary parties while maintaining confidentiality as appropriate.
Provides crisis intervention, re-entry, and transition support to students, families, faculty, and staff in accordance with established protocols.
Supports diversity and inclusion for all students and families.
College Advising
Works closely with each family to establish college application goals and lists.
Submits required admission credentials via Naviance by establishing deadlines to each student's desired college and university and tracks outcomes accordingly.
Conducts outreach to college admission officers to advocate for students in the application review and yield processes.
Coordinates the administration of standardized testing for appropriate high school grade levels.
Participates in on- and off-campus events as well as virtual gatherings related to the college admission process.
EDUCATION AND EXPERIENCE REQUIREMENTS
Master's degree in counseling, guidance, social work, psychology, or related field is required along with a minimum of two years of work experience in an academic environment ideally at the secondary school level.
THE IDEAL CANDIDATE POSSESSES:
An understanding, commitment, and appreciation for a Catholic, all-girls educational environment and NDA's mission and core values
A mindset that supports the social-emotional growth of all learners and a commitment to student success
Experience teaching and utilizing successful classroom management strategies
Strong interpersonal, collaboration, communication, and motivational skills
Knowledge of theoretical frameworks of intellectual, social, and emotional development
Cultural competence in working with diverse populations
Ability to analyze, problem-solve, and multi-task, managing multiple priorities and adjusting as needed
Highly organized with a strong standard of professionalism, accountability, and customer service
Welcoming, thoughtful, and energetic attitude with sincere commitment for collaborative work
BENEFITS
Competitive pay
Medical, dental and vision insurance
Employer-paid life insurance and disability insurance
401(k) plan – employer match
Paid holidays, sick and personal time
Flexible spending plans for both medical and dependent care
APPLICATION PROCESS
Interested candidates should send a résumé, cover letter, and two reference letters.
Notre Dame Academy, Hingham
Hingham, MA
Middle School, High School
Day
Girls