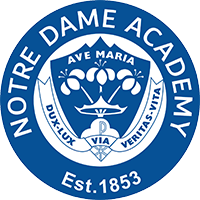 Accredited by NEASC
Front Office Coordinator
Staff / Part-Time
Notre Dame Academy, Hingham, Hingham, MA
Notre Dame Academy, a Catholic school sponsored by Sisters of Notre Dame de Namur, educates and empowers young women in grades 7-12. We are an academically rigorous learning community that cultivates life-long learners, critical thinkers, and open-minded leaders. We welcome students of all religious traditions guiding them in their personal faith formation and inspiring them to see the goodness of God as we honor the dignity of the individual and care for all creation.
FRONT OFFICE COORDINATOR
GENERAL OVERVIEW
The Front Office Coordinator reports to the Administrative Assistant – Principal's Office and is responsible for supporting the operations of the Front Office. This position must provide a welcoming presence in the Front Office, greeting all callers and visitors to Notre Dame Academy with gracious hospitality and professionalism. The ideal candidate is organized, detail oriented, exercises discretion, a multi-tasker, meets deadlines and enjoys working as part of a team. This is a part-time, 10-month position that includes support for occasional night and weekend events.
CORE RESPONSIBILITIES                                                                                                                
·         Answering and directing incoming calls to appropriate personnel

·         Greeting visitors

·         Serve as the primary liaison for all delivery companies including USPS, UPS, and FedEx

·         Coordinate supplies purchases for academic faculty, staff, offices, and various departments

·         Assist Administrative Assistant with supporting academic administration team

·         Providing support to students, faculty, parents, and others as directed

·         Providing and coordinating general Front Office support including but not limited to: updating student information system database, updating online calendars, creating presentations, managing office calendars, printing, filing, collating, labeling and stuffing envelopes, maintaining lists, placing phone calls, sending emails, sending regular mailings, scheduling meetings with students, and submitting special function and work orders

·         Other duties as assigned and necessary
EDUCATION AND EXPERIENCE REQUIREMENTS
Proficiency with Microsoft Office Products – Outlook, Excel, Word, PowerPoint along with student information systems (AdminPlus experience preferred)
3-5 years experience as an administrative assistant preferably in an academic setting
Bachelors degree or related experience
The Ideal candidate possesses:
An understanding, commitment, and appreciation for a Catholic, all-girls educational environment and NDA's mission and core values
Discretion and confidentiality
Strong interpersonal, collaboration, and communication skills
Professionalism, accountability, and customer service
Grace under pressure
Knowledge of business office practices and procedures required
*Notre Dame Academy seeks to create a working and learning environment that reflect the society and community in which we are located, and we actively encourage candidates of all backgrounds to apply.
Notre Dame Academy, Hingham
Hingham, MA
Middle School, High School
Day
Girls