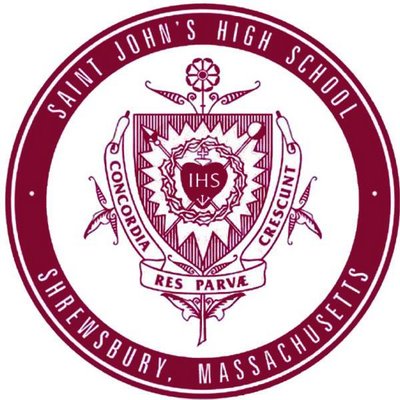 Accredited by NEASC
French Teacher
Faculty / Part-Time
Saint John's High School, Shrewsbury, MA
SAINT JOHN'S HIGH SCHOOL
OPENING FOR THE FIRST SEMESTER OF THE 2023-24 SCHOOL YEAR*
PART-TIME FRENCH TEACHER (INTERIM)
Saint John's High School is seeking an enthusiastic student-centered French Teacher to join our community effective immediately. We value diversity in backgrounds and in experiences and look for candidates who are expert in their field, caring and compassionate, and ready to work with all of our students and teachers and staff. The successful candidate will serve as a homeroom teacher and member of the World Language Department.  This part-time position is offered on an interim basis for the remainder of this school year, with the opportunity for the candidate to be considered for continued employment at Saint John's in this capacity beyond the 2022-23 school year.
Mission of Saint John's High School
A Saint John's Catholic education is rooted in the commitment of the Xaverian Brothers to bring Christ to life in young men. Our students develop a love of learning through a college preparatory academic and co-curricular program embracing both tradition and innovation. Saint John's fosters the formation of the whole person: spiritual, social, physical, intellectual, creative, and aesthetic.
We call our community to live out the Xaverian values of zeal, humility, simplicity, trust, and compassion. Saint John's creates an atmosphere of interdependence, respect, inclusion, and personal responsibility in a community where we mutually help, encourage, and edify each other to develop relationships that transcend time.  We aim to send forth young men who will use their God-given talents to transform their community, their nation, and their world.
In the tradition of its Xaverian founders, Saint John's High School is committed to providing opportunities for families in need, students from a diversity of backgrounds, and for the poor and marginalized.
Position Description:
Saint John's High School seeks a part-time high school French teacher. Candidates should have a strong background in education, a commitment to and understanding of high school boys in and out of the classroom, the ability to utilize technology to enhance student learning, and the drive to engage in ongoing professional development.
The successful candidate will join a French program which is heavily invested in acquisition driven instruction as supported by the theory of comprehensible input.
The ideal candidate must have a strong command of the French language both written and spoken and be committed to guiding our students as they construct their understanding of the target language. This educator is a collaborator with an appreciation for the teachable moment in their discipline and beyond it. A person with consistently high standards, comfortable teaching in a faith-filled school community, the candidate of choice seeks growth and learning every day, both personally and professionally, and inspires others to do the same through optimism, selflessness, flexibility, and teamwork. The selected candidate has a real desire to contribute to the school community by sharing their passions and through additional efforts — in particular, coaching and/or moderating a club. 

The teacher will be responsible for the implementation of curricula, designing assessments that measure student progress and achievement, using assessment data to inform instructional practices, and participating in collaborative activities.  Required qualifications include:

an undergraduate degree in French or a related field (a Master's would be highly valued)

, proficiency with technology, dedication to working cooperatively with other teachers to maintain and grow a strong French program, and robust interpersonal skills.  Experience with coaching, campus ministry, and/or club activities on the high school level will also be essential for the ideal candidate.  In addition to honor and character, and commitment to intellectual engagement, especially important is the candidate's demonstrated commitment to an inclusive school community.
Anyone interested in the position should send a cover letter, resume, and three references to Christopher Cowan, Acting Principal of Saint John's High School, at employment@stjohnshigh.org. 
No telephone inquiries, please.
*Position may be for the full year.
Saint John's High School
Shrewsbury, MA
Middle School, High School
Day
Boys