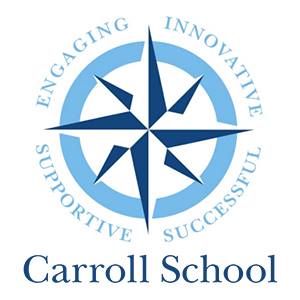 Accredited by NEASC
Executive Director of Advancement
Administrator / Full-Time
Carroll School, Lincoln, MA
Executive Director of Advancement
Carroll School
Waltham, Lincoln, and Wayland, Massachusetts
February 2023
"Before we started at Carroll, EVERYONE we talked to said the school was 'Life Changing' for the child and the family. Thank you Carroll for living up to this reputation and giving our child what they need." Current Parent
The Carroll School in Massachusetts is not just an exceptional, nationally recognized independent school serving students with language-based disabilities. It is also a place where students' love of learning comes alive. It is a place where educators have the time and support to connect individually with a child. Carroll is a place where families find, often for the first time, a community where their child and their family is understood, welcomed, and embraced as having limitless possibilities. Carroll is a place where the culture of giving reflects the entire community's contributions of time, advocacy, and philanthropy. The Carroll School seeks an Executive Director of Advancement who will joyfully embrace the unique opportunity to lead advancement in this special community.
The Executive Director of Advancement (EDA) will report to a dynamic new Head of School; lead a team of experienced, accomplished fundraising professionals; and partner with colleagues, families, and members of the Board of Trustees. The EDA will envision and execute a fundraising strategy that propels Carroll to fulfill its potential to grow as an institution and extend its expertise to dyslexic learners far from Carroll. 
Carroll School
Carroll School is a dynamic independent day school for elementary and middle school students in grades 1-9 who have been diagnosed with specific learning differences such as dyslexia. Carroll School empowers children to become academically skilled students who are strong self-advocates and confident lifelong learners prepared to enter other academic settings. From seven students in the fall of 1967, Carroll now serves 450 students, 22% of whom are children of color. Students benefit from small classes, more than $3.5 million in financial assistance, highly qualified teachers, and Orton-Gillingham trained tutors. Carroll was founded and continues to educate based on the values of diversity and inclusivity among its learners. These values are critical to the culture of our adult community and a moral imperative. The work we do at Carroll changes lives. As such, we welcome candidates who have strong interpersonal and culturally responsive communication skills and a proven ability to work professionally and collaboratively with a variety of constituents.
The Position
The Executive Director of Advancement will join a department that has shown, both in its most recent campaign and in its annual fundraising, to be strategic, successful, and high performing. The EDA will lead a team of five professionals who altogether manage the annual fund, leadership gifts, stewardship, alumni and parent relations, advancement communications, and operations. Further, the EDA will collaborate with the Board and volunteers. The position offers an opportunity for both seasoned fundraisers, and highly relational leaders passionate about Carroll's mission, to build the next generation of advancement. Head of School Dr. Reneé Greenfield is in her second year at Carroll and is bringing the community together around key goals to ensure Carroll is more broadly accessible to families; to maintain teacher excellence through competitive pay; and, to plan for facilities that allow growth and further innovation. The successful Executive Director of Advancement will seize the opportunity to partner with the Head of School and engage Carroll's community to meet and exceed these goals.
Responsibilities
The Executive Director of Advancement will be both a passionate advocate for Carroll and an astute advancement professional able to synthesize each Carroll opportunity into an overall plan for growing annual revenue and long-term capital investment. The EDA should excel at leading and mentoring the advancement team, establishing an ambitious but achievable annual fundraising plan, engaging parents, alumni and other constituents to understand and embrace the need for philanthropy, and supporting the Head of School in achieving a vision for Carroll's future. The EDA will work in close collaboration with Carroll's senior leadership team. These responsibilities will be far reaching, but ultimately energizing for the right candidate. The next EDA will have the opportunity to build a legacy of engaged advancement for Carroll.
Leaders at Carroll tend to bring their own love of learning to their roles, recognizing that each member of the community can and does bring a unique perspective and gift to Carroll's impact. The Executive Director of Advancement will strategize and inspire, but also execute, support, and learn from others. Among the responsibilities will be the following:
Serve as a visible and accessible leader of advancement for Carroll, establishing strategy, ensuring execution, and motivating the entire community to build the culture of giving.

Guide, mentor, and inspire the advancement team, Carroll colleagues, Carroll trustees and families, and the Head of School around a vision for advancement that enables Carroll to achieve its mission.

Demonstrate and maintain a strong commitment to DEIJB practices in all aspects of the role and the division.

Articulate a message in personal interactions, formal communications pieces, and public statements that consistently and clearly outlines the case for Carroll.

Enlist Carroll leadership, educators, and families in the day-to-day fundraising efforts as well as a plan for attracting lasting investment in Carroll's strategic goals.

Synthesize the efforts of the Annual Fund, major donor solicitation, stewardship, alumni and parent relations, communications and operations into a comprehensive fundraising plan that exceeds the sum of its parts, and positions Carroll to begin its next campaign. 

Collaborate with enrollment, finance, marketing, and Carroll's expert educators as one team focused on giving in multiple ways to Carroll to ensure its long-term success.

Develop actionable goals with clear measures of success for both annual and multi-year plans.

Draft the budget, maintain the workflow, build the right tools, and provide day-to-day management of the advancement function.

Serve as an enthusiastic and authentic representative of advancement, willing and able to enlist supporters with capacity for transformative gifts to Carroll, and ensure Carroll has a comprehensive major gift program.

Act as a partner, support, and coach for Trustees and other Carroll leaders, both those enthusiastically engaged in advancement and those new to the role.

Provide thought leadership, wise counsel, and tactical support to the Head of School across all of her advancement responsibilities from substantial requests for philanthropy to rallying the Carroll community.
Qualities and Qualifications
The successful Executive Director of Advancement candidate will demonstrate the team leadership, strategic vision, and proven results necessary to lead fund development for Carroll. At the same time, this individual should bring personal qualities that advance Carroll's unique and valuable mission. These include joy, a love of children, a sense of humor, and a willingness to do the unglamorous tasks needed to be a servant leader at Carroll. Among the qualifications and qualities we will anticipate the successful candidate will bring:
Demonstrated success in bringing revenue generation from strategy to success, particularly in a manner that builds upon and within an organization's culture. 

8-10+ years of aligned experience developing a fundraising strategy, shaping and mentoring a team, organizing volunteers, and pivoting where needs or opportunities arise.

Proven management experience with both a team and with peers and a Head of School.

Examples of successfully closed transformative gifts within a campaign or fund, including donors who can speak to their relationship with the candidate.

Experienced planner and organizer who can pull together multiple opportunities, priorities, and data into an actionable plan producing measurable results.

Ease in speaking before a range of audiences from the Trustees to potential families or the Parents Association, as well as in small meetings with stakeholders of any type.

Compelling and clear writing style to contribute to Carroll's marketing and messaging, whether in the annual report or in an email.

Data driven and innovative framework for fundraising, informed by a facility with Raiser's Edge or a similar database.

Unswerving commitment to Carroll's current DEIJB goals and future path toward inclusion.

Recognition that this job may involve watching a soccer game, helping with pickup or dropoff, working weekends or evenings, occasional travel, and serving as a support to peers across multiple functions on behalf of Carroll.

High emotional intelligence to enlist a diverse community within a common goal of funding Carroll for the future using each individual's strengths.

Alignment with the Carroll asset-based view that individuals with language-based differences offer exceptional strengths.
Compensation
Carroll School is an equal opportunity employer that offers competitive salaries and benefits, including comprehensive professional development opportunities (range available for serious candidate inquiries).
Carroll employees enjoy a wide range of benefits, including medical, dental, and life insurance, as well as a 403b retirement plan with matching after one year of employment, and generous paid time off. 
EEO Statement
The Carroll School is an equal opportunity employer. The School will extend equal opportunity to all individuals without regard for race, religion, color, sex, gender identity and expression, ethnic or national origin, age (age 18 or older), disability, sexual orientation or preference, genetic information or ancestry, marital status, veteran status, or any other category protected by law. 
To Apply:
Please forward a resume and thoughtful cover letter to our search consultant, Carolyn O'Brien Consulting, LLC at carroll@carolynobrien.org.  Title your cover letter and resume with your last name (e.g., "Smith cover letter.pdf" and "Smith resume.pdf"). All applications will be carefully reviewed and acknowledged.
About Carroll School
Located in Waltham, Lincoln, and Wayland, Massachusetts, Carroll School is an independent day school that serves students with language-based learning differences, such as dyslexia. Carroll School empowers children to become academically skilled students who are strong self-advocates and confident lifelong learners prepared to enter other academic settings. Carroll is an inclusive community committed to embracing diverse strengths, identities, and lived experiences in order to give each child what they most need to thrive.
Carroll School
Lincoln, MA
Elementary, Middle School, High School
Day
All Gender