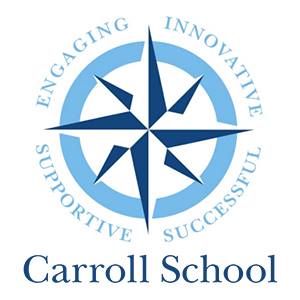 Accredited by NEASC
Enrichment Supervisor – Summer Program
Staff / Seasonal
Carroll School, Lincoln, MA
 Enrichment Supervisor for Waltham (Grades 1-4)
 Summer Program: Wednesday, June 28, 2023 to Wednesday, August 2, 2023 (no program  July 3rd and July 4th)
Hours: Monday-Friday, 8:00 am – 4:15 pm
Staff Orientation: June 26th and June 27th
About Carroll School:
Located in Waltham, Lincoln, and Wayland, Massachusetts, Carroll School is an independent day school that serves students with language-based learning differences, such as dyslexia. Carroll School empowers children to become academically skilled students who are strong self-advocates and confident lifelong learners prepared to enter other academic settings. Carroll is an inclusive community committed to embracing diverse strengths, identities, and lived experiences in order to give each child what they most need to thrive. 
Summer School Overview:
Summer@Carroll is a five-week summer school program for students entering grades 1-9 who have been diagnosed with a language-based learning difference, such as dyslexia. Students participate in academic classes and recreational programming each day. 
Carroll School is an equal opportunity employer that offers competitive salaries.
Position Summary:
Enrichment Supervisor is a full day managerial position in charge of Enrichment staff for grades 1-4 on the Waltham campus. The primary responsibility of the Enrichment Supervisor is to organize all enrichment activities in the afternoon. Additional responsibilities include training of young enrichment staff members, parent communication around enrichment issues, and collaboration with academic staff. Each year there are approximately 90 campers in grades 1-4 who attend summer school in the morning followed by various activities in the afternoon. 
Responsibilities:
Staff training for Activity Directors, TA/Counselors, Junior Counselors

Oversee the daily planning of afternoon activities

Facilitate team building and training activities for the enrichment staff each morning to promote healthy enrichment culture

Attend Administrative Team Meetings to address student concerns

Works directly with school counselor and enrichment staff to insure a positive experience for each child

Works with Summer@Carroll Directors to plan, present and participate in activities during the 2-day staff orientation (June 26-June 27)

Plan with activity directors to make sure there are appropriate activities and equipment available during free choice times (before the start of the day, recess, etc.)

Monitor and support staff so that all personnel are engaged with students

Train and delegate tasks to the Junior Counselors: recess/snack break prep, lunch prep, afternoon activities set up, etc.
Knowledge, Skills, and Abilities:
History of working in a management or supervisory role 

Previous summer program/camp experience 

Background in working with students with diverse learning profiles

Ability to effectively communicate with parents around students needs

Experience working with students who are struggling to meet behavioral expectations  

Fully vaccinated against Covid – 19
To Apply:
Carroll School
Lincoln, MA
Elementary, Middle School, High School
Day
All Gender