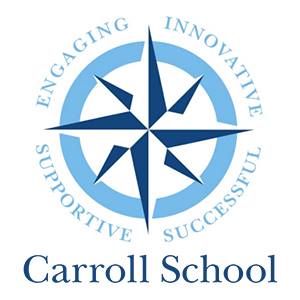 Accredited by NEASC
ELA-Humanities Co-Department Head
Faculty / Full-Time
Carroll School, Lincoln, MA
Overview:
Located in Waltham, Lincoln, and Wayland, Massachusetts, Carroll School is an independent day school that serves students with language-based learning differences, such as dyslexia. Carroll School empowers children to become academically skilled students who are strong self-advocates and confident lifelong learners prepared to enter other academic settings. Carroll is an inclusive community committed to embracing diverse strengths, identities, and lived experiences in order to give each child what they most need to thrive. The Carroll Middle School is located on the Lincoln campus and serves grades 6-8. 
Carroll School is an equal opportunity employer that offers competitive salary and benefits, including a strong professional development programming such as; Orton Gillingham training. 
Position Summary:
This position provides academic leadership for the Middle School's ELA/Humanities Department as a member of the Academic Leadership Team in collaboration with a co-leader. This position seeks to find a co-leader with a history background.  Responsible, under direction of the Head of Middle School, for the scope and sequence and integrity of the curriculum across the grades and supporting and evaluating teachers in delivering the curriculum to students with language-based learning differences through a culturally responsive lens.
Responsibilities alongside Co-Leader:
Collaborates with teachers and counseling staff to create class groupings:

Creates homogenous ELA class groupings that best meets the whole childs' needs, including the academic, social/ emotional, and cultural needs of individual students.

Creates History class groupings that consider students' academic and cognitive profiles, social/emotional needs, and cultural backgrounds.

Gathers input from ELA and Language Focus Area* (LFA) teachers to place students in Focus Area* (FA) classes that address the students' greatest area of academic need.  Grouping for FA classes also involves collaboration with the Tutoring and Math Department Heads.

Teaches 2 sections of Middle School ELA/Humanities Classes

Trains new teachers (ELA and History teachers) in programs used in ELA and History classes:  Project Read's Framing Your Thoughts & Report Form, Carroll Middle School Writing Curriculum, grammar conventions, etc and supports those teachers in implementation. 

Encourages the development of teacher knowledge and skills through coaching, observations, teacher / peer

observations, and professional development workshops with the goal of improving teacher expertise and delivery of instruction to students through a culturally responsive lens.

Chairs regularly scheduled Department meetings with the goal of encouraging collaboration among teachers, sharing pertinent information, developing academic technology integration skills,  inviting colleagues to train teachers on new educational developments, previewing upcoming events such as parent conferences, etc. 

Supports teachers at parent conferences, Student Action Plan meetings, and any other situations in which a teacher asks for or benefits from Department Head assistance.

Budgets for annual departmental expenses, which includes the ordering of class materials such as book sets, student workbooks, relevant subscriptions, etc.

Sits on the Admission Committee, interviewing and assessing students applying to the Middle School and participating in meetings that make decisions about candidates.

Represents The Carroll School at required special events, such as Open Houses, Parents' Day, etc. 
*Focus Areas are small classes that target an area of great need; Language Focus Areas center around developing reading and writing skills
Qualifications:
Bachelor's degree; Master's in Education preferred
Trained, or willing to be trained, in Orton-Gillingham approach

A solid foundation in English grammar and conventions

Trained, or willing to be immediately trained, in Project Read (Story Form, Report Form, Framing Your Thoughts)

Experience in teaching students with language-based learning differences. Must have a strong subject background and knowledge of the Massachusetts Curriculum Frameworks for both ELA and History.  

Commitment to multi-sensory education and ability to develop curriculum. 

Possesses a passion for education, conveyed by a solid understanding of educational practice and philosophy grounded in DEI practices

Has the ability to:

Convey ideas clearly both orally and in writing

Communicate effectively with parents, students, teachers, and administrators, especially about program

Manage time and set priorities

Be flexible

Be able to problem-solve, particularly situations regarding students' placement
Carroll School
Lincoln, MA
Elementary, Middle School, High School
Day
All Gender