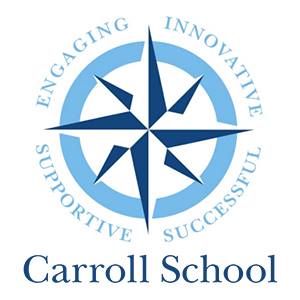 Accredited by NEASC
Director of Innovation and Instructional Technology
Administrator / Full-Time
Carroll School, Lincoln, MA
Director of Innovation and Instructional Technology
About Carroll School:
Located in Waltham, Lincoln, and Wayland, Massachusetts, Carroll School is an independent day school that serves students with language-based learning differences, such as dyslexia. Carroll School empowers children to become academically skilled students who are strong self-advocates and confident lifelong learners prepared to enter other academic settings. Carroll is an inclusive community committed to embracing diverse strengths, identities, and lived experiences in order to give each child what they most need to thrive.
Carroll School is an equal opportunity employer that offers competitive salaries and benefits, including comprehensive professional development opportunities.
Position Summary:
The Director of Innovation and Instructional Technology coordinates the efforts of the Carroll School to shape the development and implementation of curriculum and instruction through a culturally responsive lens. This role maximizes the impact of educational technology for educators and students in a 1:1 Chromebook environment. The Director will work strategically with other school leaders to provide a logical scaffold and sequence of technological skills that spans first through ninth grade for students. Additionally, they will provide teachers with the necessary information, learning opportunities, and support to innovate in their classrooms.
The Director of Innovation and Technology manages staff who support instructional technology and the makerspaces within the Carroll School. In this capacity, they manage budgeting for hardware and software, the rostering and administration of student and teacher applications, and using a ticketing system to support teachers and students as they use technology throughout the day and within their classes. Working with other school leaders, the Director of Innovation and Instructional Technology will facilitate the placement of the Makers program within the broader school curriculum, schedule, and priorities. This person works closely with other school leaders to plan and host virtual events for both internal and external audiences. This is a full-year position reporting to the Chief Technology Officer.
Qualifications:
Demonstrated success with leading and supporting the implementation of technology in a school environment, including professional development
Willingness to embrace and promote diversity
Ability to support a Makerspace and/or teach makers-related content (3D design, coding, engineering, or related topics) to teachers
Familiarity and use/management of a variety of programs including, but not limited to, rostering management systems, curriculum delivery platforms, and interactive student applications
Bachelor's degree in Education, Instructional Technology or Instructional Design, or related field, 5+ years of relevant in-school experience
Outstanding written and verbal communication skills and a collaborative approach to problem-solving
Carroll School
Lincoln, MA
Elementary, Middle School, High School
Day
All Gender
Serves Special Needs