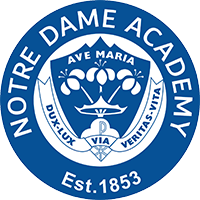 Accredited by NEASC
Director of Campus Ministry and Mission Integration
Staff / Full-Time
Notre Dame Academy, Hingham, Hingham, MA
Notre Dame Academy, a Catholic school sponsored by Sisters of Notre Dame de Namur, educates
and empowers young women in grades 7-12. We are an academically rigorous learning community
that cultivates life-long learners, critical thinkers, and open-minded leaders. We welcome students
of all religious traditions guiding them in their personal faith formation and inspiring them to see the
goodness of God as we honor the dignity of the individual and care for all creation.
GENERAL OVERVIEW
Notre Dame Academy is seeking a full time (10 month) Director of Campus Ministry and Mission
Integration who demonstrates high energy, a creative spirit, and a passion for empowering young
women. Under the supervision of the Principal, the Director of Campus Ministry and Mission
Integration creates, develops, and implements programs that seek to enhance the students'
educational experience. The Director provides opportunities for students to grow in their
understanding of faith, their relationship with God and others, and to develop personal values. The
Director develops programming rooted in an understanding of the teachings of Saint Julie Billiart and
the mission of the Sisters of Notre Dame de Namur, with particular attention to the Hallmarks of Notre
Dame de Namur Learning Community. The Director of Campus Ministry and Mission Integration is a
fully initiated member of the Catholic Church, nourishes his/her faith through ongoing spiritual
formation & prayer, and publicly adheres to Church teachings.
CORE RESPONSIBILITIES
Worship and Prayer
– Oversee the planning of all school liturgies
– Coordinate daily morning prayer and prayer services
– Coordinate/design spiritually enriching experiences throughout the school year (Thanksgiving,
Advent, Lent, etc.)
Retreats
– Develop, administer, evaluate, and direct grade level, whole class retreats for grades 7-12
– Develop overnight retreat program for grades 11 & 12
– Oversee retreat staff training (including faculty and student leaders)
– oversee all scheduling of retreats and monitoring of the calendar
– Communicate retreat details effectively with faculty, staff, students and parents
Outreach
– Develop and oversee after school outreach opportunities within the local community
– Partner with the Travel Coordinator – Domestic and Global Service on elements of service immersion
programming
– Coordinate all elements of annual Christmas Toy Drive and Lenten Campaign
– Support student led outreach and fundraiser initiatives
Pastoral Ministry
– Provides pastoral support as requested by students, faculty, and staff
– Collaborates with guidance and other departments regarding specific pastoral
needs/concerns of students
– Supervise the Assistant Campus Minister
– Oversee all aspects of Campus Ministry student leadership program
– Work collaboratively with adult members of the community who serve as volunteer leaders assisting
with campus ministry programming
– Serve as liaison to Parent League community service group
– Other duties as required.
EDUCATION AND EXPERIENCE REQUIREMENTS
-Master's Degree in related field
-2 years minimum experience
All interested candidates should submit the following:
– Letter of interest
– Resume
– A response to the following:
What is your experience in Campus Ministry? How would you engage students in a Campus
Ministry program? Describe the importance of faith in your life. (Maximum Response: 1000
words)
*Notre Dame Academy seeks to create a working and learning environment that reflect the society and
community in which we are located, and we actively encourage candidates of all backgrounds to apply.
Notre Dame Academy, Hingham
Hingham, MA
Middle School, High School
Day
Girls