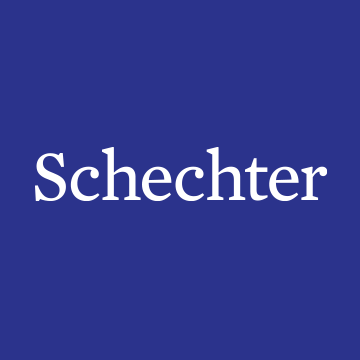 Accredited by AISNE
Development & Engagement Manager
Administrator / Full-Time
Solomon Schechter Day School of Greater Boston, Newton, MA
Schechter Boston creates a Jewish educational experience where each child, 15 months through eighth grade, is known, belongs, is engaged and is inspired. Faculty, staff and students at Schechter benefit from a highly-collaborative, mutually-supportive environment in which each person's individual strengths are recognized and cultivated, and are vital to the success and learning of the community as a whole. Individuals who work at Schechter Boston must thrive in a culture that lives every day by the following cultural values: 
Believing there is no limit to better

Providing honest and kind feedback

Failing forward

Leaning into complexity

Being kinder than necessary
As the Development and Engagement Manager, you will oversee our school's annual campaign fundraising efforts (working closely with our school's volunteer leadership team), and strategize and implement activities to further engage parents, grandparents, alumni and prospective parents with our school. The Development and Engagement Manager reports to the Director of Enrollment and Advancement, supporting development, admission and community-building efforts, as well as school-wide functions. 
Specific responsibilities will include:
Development Management: 
Create and manage constituency based strategies (alumni, parents, grandparents, alumni parents, friends) stewarding current donors as well as creating plans to grow beyond the pool of current donors in order to reach our annual fundraising goal

Recruit and manage a team of volunteer and staff solicitors

Identify key donor segments and implement strategies to increase engagement; analyze patterns and effectiveness

Regularly perform outreach to donors, scheduling one-one-conversations as appropriate, and sharing updates from the school

Create and update materials to support gift cultivation (direct mail and email appeals, website and social media)

Assist with database management and tracking efforts, and other research activities, to identify new prospects

Conduct ongoing analysis on progress to-date, share projections for the future and seek out new opportunities for philanthropy

Work with team members to develop content and materials for development activities, including videos, web and print pieces
Community Engagement: 
Through virtual and in-person events, one-on-one meetings and small group gatherings, develop opportunities for current and prospective community members to enhance and deepen their connection to the Schechter community (social, spiritual, community service, volunteer opportunities, etc).

Partner with the Parent Association to help identify potential volunteers to help engage more parents in regular programming

Collaborate with team members to run outreach programs like Schechter Soccer, alumni reunions and other social events to build community among current and prospective parents 
Qualifications:
You are a thoughtful and strategic team player.

You are an effective communicator, both in-person and in writing.  

You are extremely responsive, flexible and collaborative.

You are available some evenings (generally for virtual meetings) and about fifteen Sundays per school year.
Education and Experience:
Minimum of a Bachelor's degree preferred

At least 5-7 years of experience in nonprofit management, fundraising or a related field

Proven success in stewarding donors and creating pipeline for major donors or related success

Computer literacy, Blackbaud Raiser's Edge experience preferred

Experience in educational, non-profit or Jewish organizations is valued, but not required
Salary & Benefits:
Competitive salary ranging from $70-85K, commensurate with experience. We strive to provide a competitive salary and comprehensive benefits package that supports our faculty and staff, including: health insurance, dental insurance, prescription drug benefits, vision, healthcare/dependent care flexible spending account (FSA), long term disability, life insurance, 403(b) with employer matching, paid holidays, vacation, sick and personal time.
To Apply:
To apply please send your resume and cover letter to jobs@ssdsboston.org
Accessible by public transportation:
Schechter is accessible by NewMo, a Newton-sponsored ridesharing service from the following stations: Newtonville Station (Commuter Rail- Worcester Line), Needham Heights Station (Commuter Rail- Needham Line) Chestnut Hill Station (MBTA Green Line-D), Newton Highlands Station (MBTA Green Line- D). NewMo lets you book a ride ($2/ride) from any of these stations to the Wells Avenue Business District, where the school is located.
Solomon Schechter Day School of Greater Boston
Newton, MA
Infant / Toddler, Early Childhood, Elementary, Middle School
Day
All Gender
Religiously-Affiliated