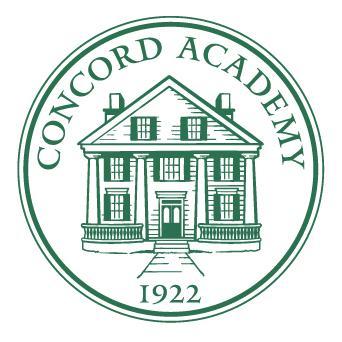 Accredited by NEASC
Dean of Students
Administrator / Full-Time
Concord Academy, Concord, MA
Concord Academy, a renowned independent college preparatory school for grades 9 through 12 located in Concord, Massachusetts, is seeking a Dean of Students, animated by joy and driven by a sense of purpose, to work with a diverse student body beginning July 2022.
Founded in 1922, Concord Academy (or CA) has long balanced high academic standards with a focus on educating the whole student through developing strong student voice, academics, the arts, athletics, and cultural opportunities. Self-expression, storytelling, and careful listening are hallmarks of the Concord Academy experience. It is an exciting time at Concord Academy: as the school embarks on its centennial, it will also be welcoming a new Head of School, to be announced late fall of 2021 and beginning July 2022.
Concord's next Dean of Students will join a vibrant, thoughtful, and passionate school community, serve in a key leadership position, and work alongside a talented, committed community of adults in support of an engaged and active student body. Reporting directly to the Head of School, the Dean of Students is a member of the Senior Administrative Team, and will be joining this exceptional leadership group at the start of an important new chapter in Concord Academy's history.
Position Overview
The Dean of Students serves as the primary advocate for students at Concord Academy and is responsible for all non-academic, student-related matters. The Dean's work is rooted in establishing a vibrant and healthy school and student culture in support of the school's mission, in particular, upholding the school's foundational value of Common Trust and promoting the work of striving for equity.
The opportunity to serve as Concord Academy's next Dean of Students is a tremendous one for an energetic individual who revels in supporting the personal growth and well-being of adolescents and is personally invested in boarding school life. CA's diverse student population, 60% day students and 40% boarding, requires a Dean of Students who has gained strong experience in a student-facing role.
The Dean is a central and visible figure in the daily life of students. As such, the Dean is able to influence the ethos of the school through their interactions with, and programming for, students. In this way, CA is looking for an administrator who is passionate about adolescent development and who can serve as a culture-shaper on campus.
The Dean is also a pivotal actor in promoting equity through their work, decision-making, and treatment of students. As head of the student wellness practice, the Dean should be able to emotionally connect with students. By developing relationships, as well as systems needed to implement protocols, the Dean will demonstrate the value of a strong mental health care ethic as CA continues to re-entry from the effects of COVID-19. As head of the student disciplinary process, the Dean must be guided by empathy, compassion, transparency, and fairness, and work collaboratively with the CA community to help implement innovative forms of discipline that promote justice, healing, and learning. Through programming, leading by example, and the administration of an equity-minded, consistent disciplinary process, the Dean and all adults at CA support Common Trust.
CA's diverse community is deeply engaged in dialogue, introspection, and listening, as it wrestles with the continuing divides that exist in our country — and at CA — surrounding race, gender, socio-economic status, sexual orientation, and other dimensions of diversity that arise. The Dean of Students is critical in this effort and must work closely with the Director of Community and Equity to build a culture of inclusion, belonging, and equity, and develop cultural competency throughout the community.
STRATEGIC PRIORITIES
The next Dean must focus on the following priorities:
Center diversity, equity, and inclusion in all aspects of student life, with the belief that these ideals are critical to engendering a true sense of belonging
and the only way to achieve true excellence.
Discern priorities and resources within emotional and mental health support.
Continue to develop and ensure equitable and best practices in the residential life program.
Co-create, develop, and implement innovative approaches to discipline, which will include restorative practices and developing and communicating clear disciplinary procedures and policies to students, families, and the CA community.
EDUCATION, EXPERIENCE AND SKILLS
The ideal candidate will be a passionate advocate for high-school-aged students and a champion of amplifying student voices and supporting student empowerment. This person will embrace the mission, philosophy, and culture of Concord Academy, and will have, ideally, independent school leadership and teaching experience. Given the wide ranging scope of the Dean's roles and responsibilities, they must have proven experience in supervising and managing multiple departments and programs, a reputation for strong collaboration, and excellent written and verbal communication skills. The Dean will have a demonstrated ability to successfully create inclusive processes and make informed decisions based on community input. This position is as much administrative as it is relational in nature and will require exceptional interpersonal skills and a warm, genuine, and engaging demeanor.
Concord Academy is an equal opportunity employer and values the strength diversity brings to the workplace. We are committed to providing reasonable accommodation to applicants with disabilities.
Interested candidates are invited to submit the following materials confidentially as one PDF file through the dedicated application portal (https://bit.ly/CA_Dean_of_Students):
• Cover letter expressing interest in the position
• Current resume
• Statement of educational leadership philosophy and practice
• Three letters of reference with names, physical addresses, phone numbers, and email addresses.
No references will be contacted without your knowledge and approval.
Please direct any questions via email to
jobs@strategenius.org or by phone at 415-881-7105.
Concord Academy
Concord, MA
High School
Day, Boarding
All Gender