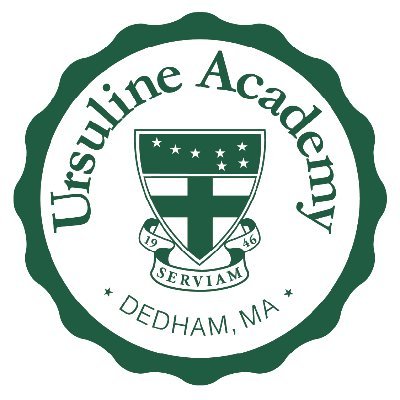 Accredited by NEASC
Campus Minister
Staff / Full-Time
Ursuline Academy, Dedham, MA
Ursuline Academy is a Catholic, independent, college preparatory school for young women in grades 7 -12, located in Dedham, MA. We are seeking a full-time Campus Minister for the 2022-2023 academic year who will provide opportunities for students in spiritual formation and faith development as well as service to the local community.  The successful candidate will be a passionate, Catholic educator who is committed to the Ursuline mission and displays a pastoral sensitivity to and understanding of adolescence.  Under the direction and supervision of the Director of Mission, the Campus Minister will share responsibility for the student faith formation program of the school and the promotion of the school's Ursuline and Catholic identity. The Campus Minister also assists and supports the Director of Mission with the faculty/staff adult faith and Ursuline formation program.  In particular, the Campus Minister is responsible for the following:
In the Community of Faith and Mission:
Ensures that the Catholic identity of the Academy is developed and nurtured

Models and promotes the mission of the Academy

Provides prayers for the school community that can be used each day

Plans and coordinates retreats for all grade levels including the recruitment of student leaders and their formation, along with the evaluation and assessment of retreats

Collaborates effectively and in a timely manner with the Dean of Student Life and School Counseling Department in providing spiritual guidance, crisis intervention and a supportive presence for students and families

Teaches Theology and Peer Ministry courses, as needed

Plans and directs all-school liturgies, reconciliation services and prayer services, as well as prayer with small groups

Invites and works with students on liturgy planning, prayer experiences and retreats

Participates in all Administrative team and Campus Ministry staff meetings 

Provides pastoral support for students in need by responding to referrals from Student Life and School Counseling
Service Program:
In partnership with the Theology Department, disseminates program guidelines and requirements to incoming students, advisors, other Academy personnel, and persons or organizations outside the school, as requested

Participates in the development of a service-learning program for the Academy

Advises students on service placements

Promotes service opportunities throughout the community

Guides the process of selecting students to receive annual service recognition awards

Coordinates and implements student service trips

Coordinates Senior Service projects

Oversees the placement of each student

Provides materials and schedule for evaluation by student, supervisor and co-workers

Evaluates student performance and provides final evaluations for permanent records
In Other Dimensions:
Shares in and works directly with students as a leader in the Advisory Program.

Assures that worship space is kept current in regards to liturgical seasons as well as supplied with necessary items

Meets regularly with the Director of Mission 

Participates in ongoing professional development

Designs and/or updates a procedural manual for the Campus Ministry position

Accepts additional responsibilities as directed by the Director of Mission 
Minimum Qualifications:
Bachelor's Degree, Master's Degree in a related field is preferred

Five (5) years of ministry or teaching experience at the secondary level
Required Skills and Experiences:
Approachability and the ability to connect well with adolescents 

Excellent communication, organizational, interpersonal skills, including a sense of humor
Experience with diverse student populations
Demonstrated interpersonal and organizational skills
Ability to be available for evening events, weekend retreats, and school vacation service trips
Application Instructions
Please submit a resume, statement of interest, and the names of three references to Ms. Regina MacLeod rmacleod@ursulineacademy.net.  Please indicate the position you are applying for in the subject line of the email.  
Ursuline Academy
Dedham, MA
Middle School, High School
Day
Girls