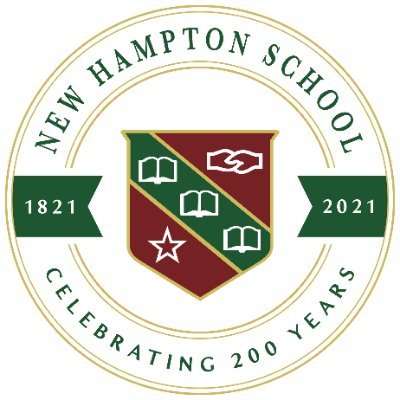 Accredited by NEASC
Associate Director of Student Life
Faculty / Full-Time
New Hampton School, New Hampton, NH
Position: Associate Director of Student Life
Classification: Full-time, 10-month, Salary
Reports to: Director of Student Life
Updated: April 2022
Job Summary:
The Associate Director of Student Life will serve the Student Life Office and its programs in a variety of capacities. The successful candidate must be a highly organized, professional, collaborative, student-centered, patient, and level-headed individual.
Job Parameters:
The Associate Director of Student Life position is a full-time position with limited summer expectations.
Responsibilities Include (but are not limited to):
Student Attendance
• Periodically check attendance each day and respond to situations in which a student is unaccounted for
• Obtain student absence list from Admin. Assistant and publish to faculty daily
• Communicate to students their marked absence to afford them the opportunity to reconcile the absence
• Communicate to students and advisors the assignment of an Evening Study
• Send list of Evening Study participants to ES supervisor
• Communicate to parents and advisors' attendance interventions- contracts, meetings, HB hearings, in-school suspensions, etc.
• Communicate with Director of School Life and Head of School the need to convene Honor Boards for attendance matters
• Communicate with parents all matters related to attendance
• Oversee weekend and special leave requests
Student Discipline
• Assist in the investigation and follow-up of disciplinary infractions including, but not limited to:
o House infractions
o Vaping/ tobacco offense
o Disrespect
o Lying
o Dress code infractions
o Parking/ automobile violations
o Untimely submission of Orange Sheets or Weekend Requests
o General disruption (at snack bar, dining hall, country store, mail room, theater, etc.)
o Unauthorized departure from campus
o Coordinate assignment and communication re: Saturday Night Detention.
• Assist the Director of School Life with larger investigations as needed
• Oversee the boarding student vehicle application process, communication with students and families, and enforcement of violations of the policy
Residential Life
• Work with Admission Office and Director of School Life to assign all student housing
• Prior to start of school, communicate with students and parents any conflicts in rooming (i.e., student does not get roommate choice, housing choice, etc.)
• Make sure that all houses have completed roommate agreements
• Work with House Heads to troubleshoot issues of roommate discord
• Respond to parent concerns regarding roommate conflicts
• Assist in the creation of house curriculum
Other Responsibilities
• Oversee club program, working to promote involvement and investment from students and adult club sponsors. Included in this is oversight and support for student diversity club and affinity groups
• Serve as Administrator on Duty and be willing to help as Student Life Office emergency support in Director of School Life's absence
• Facilitate of all aspects of monthly Community Dinner- seating (with Admin. Assistant), set-up, grace, student host/hostess, etc.
• Write monthly newsletter for website and highlight other updates of programs being offered through Communication's Office
• Assist with occasional evening special events for boarders (pretzels, hot dogs, ice cream sundaes, fried dough…)
• Assist Director of School Life and Assistant Director of Student Life with the planning and execution of major student life events (Orientation, Powder Keg, Winter Carnival, Spring Fest, Prom, Senior Week, etc.)
• Assist with other responsibilities as needed
Qualifications:
• Advanced degree in School Leadership, Counseling, Student Services, or another related field
• Three or more years of experience working in a boarding school setting
• Experience working with others in a supervisory role
• Experience addressing disciplinary issues
• A high level of professionalism and confidentiality
Knowledge, Skills and Abilities:
• A willingness to be responsive to student, faculty, and parent needs, even in "off-hours"
• Exceptional multi-tasking skills
• Strong ability to relate to and communicate with young adults and the greater school community including parents, faculty and staff members, administrators, and non-school constituencies
• Flexibility, initiative, energy, patience, and tact in addressing matters brought to the Student Life Office
• Proficient computer skills in Excel and Filemaker or a willingness to learn these programs
New Hampton School
New Hampton, NH
High School, Post Graduate
Day, Boarding
All Gender