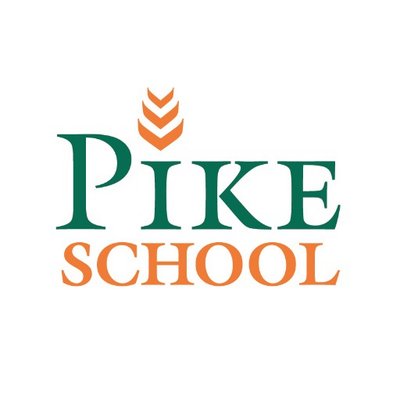 Accredited by AISNE
Assistant Head of School for Institutional Advancement
Administrator / Full-Time
The Pike School, Andover, MA
Why Pike?
A Pike education ignites a lifelong journey of discovery. We ground our work in building connections, inspiring curiosity, and cultivating the learning and growth of each of our students. A Pike education liberates human potential and possibility to transform ourselves and our world and is rooted in our motto, Non Sibi Solum. We value:
Authenticity: We embrace the identities of every person.
Intellectual Ambition: We foster curiosity, inquiry, engagement, and initiative in learning.
Social Good: We care for ourselves, for one another, and for our community.
At Pike, we believe we are on the cusp of a brighter future, a world more worthy of our children.  If you're passionate, motivated, and can't help but dream about what's possible for all children – we invite you to take a closer look at Pike. Working at Pike means immersing yourself in a student-centered culture and a compassionate, diverse community. Opportunities for strategic thinking, innovation, and learning are plentiful. If you are also looking ahead – inquisitive, hopeful, and eager, would you like to help create the future with us?
The Pike School, an independent elementary school in Andover, MA, serves approximately 435 students, of all genders, in grades pre-kindergarten through nine. Learn more about our commitment to possibility.
The Opportunity
Assistant Head of School for Institutional Advancement
The Assistant Head of School for Institutional Advancement partners with the Head of School in the strategic implementation of three critical branches:
Admissions/Enrollment Management: how Pike identifies, recruits, enrolls, and re-enrolls mission aligned students and families,
Development: how Pike identifies, engages, and stewards donors and prospects to nurture relationships and increase resources; and
Marketing and Communications: how Pike develops and communicates its messaging to promote our mission, values, and vision with various constituents.
Providing strategic oversight for these three branches, the Assistant Head of School serves as the leader of the Institutional Advancement team and embraces the model of a family's single, ongoing relationship with Pike. This relationship begins with an admission inquiry and ignites a lifelong journey of discovery with Pike as prospective families become current families and donors, as current donors become donors who give planned gifts, and as young students become alums who lead for impact.
The Head of School is eager to welcome a strategic thought partner as she and the Pike community chart the next arc of Pike's journey. Reporting to the Head of School and working closely with the Administrative team, the Assistant Head of School is an agile, highly driven, innovative leader who is adept at systems-thinking. This leader will inspire excellence in the Institutional Advancement team through cohesive vision setting, research-based/market-aware, and mission-driven decision making and collaboration, which leverages the distinct strengths of the Institutional Advancement team members.
Core Responsibilities
Strategic Partnership with the Head of School
Be a strategic thought partner to the Head of School by developing goals, initiatives, and/or external partnerships to advance Pike's Mission and Vision
Meet regularly with the Head of School to manage challenges and maximize opportunities including matters that have risk and reputation management implications
Oversee the day-to-day operation of the school in the Head of School's absence and represent the Head of School when needed
Attend and participate in Board meetings and Board Committee meetings as needed
Added responsibilities and projects as assigned by the Head of School
Strategic Alignment Across Constituencies
Provide strategic oversight and coordination of three critical branches of Institutional Advancement: Admissions/Enrollment Management, Development, and Marketing and Communications
Align these three branches (e.g. goals and tactics) with Pike's strategic financial planning, Head of School goals, and Board goals, e.g. Centennial celebration; centering our new Portrait of a Pike Graduate and Mission, Vision, and Values throughout the admissions processes, etc.
Prioritize and invest in student recruitment, family retention, and donor engagement as the streams of revenue crucial to fiscal stability and Pike's viability
Regularly benchmark, evaluate, and adapt plans and strategies as needed to reflect institutional and environmental shifts
Serve as a relational leader who has an interest in and commitment to thoughtfully building genuine relationships with Pike community members including faculty and staff, current families, alums, donors, and trustees by being accessible and highly visible in the community
Strategic Leadership of Institutional Advancement Team
Develop and lead a high-performing team of professionals by providing vision, effective mentorship and evaluation, and professional development opportunities to ensure forward-thinking and ever growing expertise and skills
Ensure all Institutional Advancement Directors and Staff support and fulfill Pike's Mission, Vision, and Values
Promote excellence by identifying challenging goals, aligning tasks to strengths, celebrating collaboration, innovation, and reasonable risks, and holding everyone accountable for success
Strategic Collaboration with the Administrative Team
Collaborate with the Administrative team to grapple with adaptive challenges through the lens of our Mission, Vision, and Values in order to sustain a transformational learning environment for current and future generations of children and adults
Areas for strategic focus include: ongoing strategy work alongside a new Mission, Values, and Vision, AISNE accreditation, living our DEIJ values, celebrating our upcoming Centennial, and exploring new possibilities for engagement across constituencies near and far
Desired Qualities and Qualifications
Enthusiasm for working in service of elementary aged (Pre-K-9) children and their families and Pike's Mission, Vision, and Values (Authenticity, Intellectual Ambition, Social Good)
Proven leadership of Admissions/Enrollment Management and/or Development teams and initiatives, as well as a deep understanding of Marketing and Communications and how these branches of Institutional Advancement interact with and influence one another and Pike's fiscal stability
Prior experience in the development of strategic programs, systems, and projects across teams with competing deadlines; experience with and enthusiasm for leading change, which unites, inspires, and empowers a team in pursuit of collective, institutional goals
Personal and professional commitment to diversity, equity, inclusion, and justice and the requisite skillfulness to support staff growth in this area and to facilitate critical conversations in the design of more equitable, bias-resistant programs and systems
A strategic, creative, future-oriented thinker, who makes decisions based on research, analysis, and institutional needs; the confidence and humility to advocate for new ideas, invite healthy debate, and welcome feedback
High emotional intelligence, empathic capacity, and demonstrated ability to listen while engaging colleagues in conversation about professional challenges and opportunities
Evidence of continued post-collegiate learning and growth
The Pike School
Andover, MA
Early Childhood, Elementary, Middle School, High School
Day
All Gender