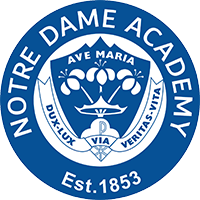 Accredited by NEASC
Assistant/Associate Director of Admissions
Staff / Full-Time
Notre Dame Academy, Hingham, Hingham, MA
Located in Hingham, Massachusetts, Notre Dame Academy (NDA) is an independent Catholic school for inspired young women in grades 7-12 sponsored by the Sisters of Notre Dame de Namur (SNDdeN). The first all-girls day school in Massachusetts, NDA educates and empowers the next generation of women leaders, preparing girls to use education, service, and faith to create positive change in the world. Founded in 1853, NDA focuses on developing girls' extraordinary potential, educating their hearts, minds, and souls so they have the confidence, wisdom, and will to lead throughout their lives. www.ndahingham.com
The Opportunity
Reporting to the Chief Enrollment Officer, the Assistant/Associate Director of Admissions is responsible for marketing the school and for supporting prospective students and their families through the admissions process. The successful candidate will foster a welcoming and inclusive environment for families through a commitment to the highest standards of customer service. Guided by the school's core values and shared sense of tradition and faith, the Assistant/Associate Director of Admission will help promote the school's mission and communicate effectively and enthusiastically the value of the Notre Dame education and student experience. The successful candidate will value working in a hands-on, fast-paced environment and will be passionate about supporting the education of young women.
Responsibilities:
?Participate in recruitment efforts, including representing NDA at local admission fairs and events, interviewing applicants for admission, and meeting with prospective students and families.
?Support the preparation and execution of admission events including open houses, information sessions, on-site testing, school-day visits, etc.
?Manage daily admission operations including processing of incoming prospect and applicant materials and maintenance of all admission data and reports.
?Provide excellent customer service in correspondence with prospective students and families by phone and email.
?Collaborate in the development of admission marketing and communications content and processes in accordance with school-wide brand strategy.
?Coordinate the review and selection of candidates for admission through preparation of applicant files, evaluation of applications, and contribution to committee discussion.
Attributes and Experience:
?A passion for all-girls education and a belief in the value of a Catholic environment.
?Excellent interpersonal, oral, and written communication skills.
?Thoughtfulness and sensitivity in working with confidential materials.
?High emotional intelligence, positive attitude and professionalism.
?Personal initiative and a strong work ethic.
?Project management experience with proven success in leading and supporting roles.
?Flexibility and experience with multiple assignments and priorities.
?Experience with Ravenna, Rediker AdminPlus, Microsoft Office Suite, etc.
?Commitment to creating an equitable and inclusive school community.
EDUCATION AND EXPERIENCE:
?Bachelor's Degree
?3-5 years of experience in admission or relevant experience in an area in educational setting
Notre Dame Academy is an equal opportunity employer. Guided by the mission of the Sisters of Notre Dame de Namur, we celebrate the inherent dignity and value in each person as central to the work of creating justice and peace for all through education. We adhere to all mandates prohibiting discrimination on the basis of race, color, religion, national origin, disability or handicap, sex, age, marital status, sexual orientation, or military veteran's status. Notre Dame Academy invites candidates to join in this process who bring a substantive and varied combination of educational pursuits and lived experiences that demonstrate the capacity to make a meaningful contribution as the primary educational leader within its community.
Interested candidates, please contact Narwhal Talent Partners:
– by voice, text, or email:
Peter G. Hamilton | (617) 620-9268
Christian G. Henry | (857) 285-3364
search@narwhaltalent.com
All inquiries are treated as confidential. This position is open until filled.
Notre Dame Academy, Hingham
Hingham, MA
Middle School, High School
Day
Girls