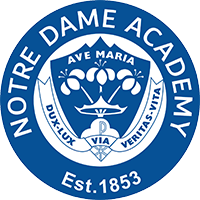 Accredited by NEASC
Afterschool Paraprofessional
Staff / Part-Time
Notre Dame Academy, Hingham, Hingham, MA
Notre Dame Academy – Hingham, an all-female college prep high school educating young women in grades 7-12, is seeking paraprofessionals with high energy, a creative spirit, and a passion for empowering young women. Notre Dame Academy is a vibrant, Catholic learning community, sponsored by the Sisters of Notre Dame de Namur. The Academy guides young women in their personal faith formation, challenges students to pursue academic excellence, and encourages social responsibility on behalf of global justice.
Part-time position, 10-month, school-year position, non-benefits-eligible
Monday through Friday – 2:00-6:00 PM, 20 hours per week, approx.
Position Summary:
Under the supervision of the Principal and the Academic team, duties include, but are not limited to:
Responsible for the safety and well-being of students after school
Monitor Student dismissal
Front Office coverage
Study coverage
Hall monitoring
Supervising student behavior
Possible other duties as assigned
Desired Minimum Qualifications:
Minimum of a Bachelor's Degree in Education or a related field (preferred but not mandatory)
Five years or more of experience working with youth in an organized setting
One year of administrative experience
Ability to communicate effectively with families and school personnel, supervise students, and respond proactively to a variety of challenges.
Notre Dame Academy, Hingham
Hingham, MA
Middle School, High School
Day
Girls